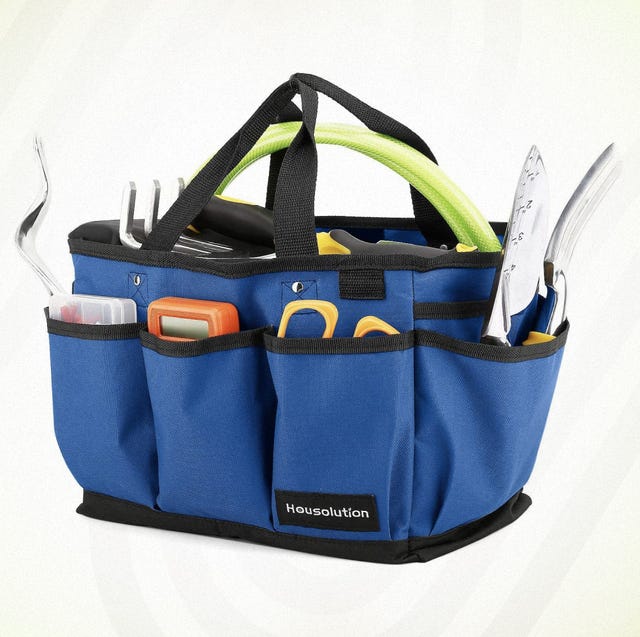 Staff, Courtesy of Housolution
If you're hoping to plant a veggie or flower garden this year, there's no time like the present to start prepping. Even if you aren't ready to break ground yet, investing in some quality gardening tools will help make the process easier and more enjoyable when the time comes.
Not only are vegetable gardens a great way to get fresh, delicious, seasonal produce right at home, but they can also be more cost effective than buying your veggies in the store—and planting flowers means you can enjoy beautiful bouquets inside your home without shelling out tons of cash at your local florist.
While starting a garden may seem intimidating, don't be afraid to start small with a few plants, or by using planters instead of digging up your yard. To help you get started, we've rounded up the best gardening tools that will help you achieve the garden of your dreams this summer. Look below for some tips on starting your own garden and reviews of our favorite gardening tools available today.
1

Best for Staying Organized
Gardening Tote Bag
Housolution
Read More
2

Best for Beginners
Ergo Garden Tool Set
Fiskars
Read More
3

For Hauling Big Loads
The Burro Buddy
The Little Burros
Read More
4

Budget-Friendly Hand Saver
Gardening Gloves with Micro Foam Coating
G & F Products
Read More
5

Best Knee Protection
Garden Kneeler Seat
LEMY
Read More
What Should I Plant in My First Garden?
If you don't have much of a green thumb, it's best to stick to plants that will flourish without too much effort. If you plan on growing from seed, some of the best veggies to start with are lettuce, peas, chard, spinach, and carrots. If you prefer to start with a plant, green beans, peppers, and tomatoes are also great options. They are easy to maintain, and don't require much work besides occasional watering and some sun to grow. If you're eager to plant a flower garden instead, begonias, calendula, daffodils, marigolds, pansies, sunflowers, and zinnias are relatively easy to grow, even for novice gardeners.
How We Selected
To find the best gardening tools among the many options on the market, we researched the most popular tools available. We then looked at both expert reviews and customer ratings, written by people who've bought these tools on sites like Amazon, to settle on the gardening tools you will find below.
Advertisement – Continue Reading Below
1
Best for Staying Organized
Gardening Tote Bag
There are few things more frustrating than heading outdoors to plant, only to realize you've left an essential tool in your garage or shed.
The solution? This stylish gardening tote. It has a large center pocket, as well as side pockets, to hold all of your gardening tools in an organized and easy to carry way. It's made from heavy duty canvas that has a bit of structure so it won't fall over, but is still easy to carry and lightweight.
2
Best for Beginners
Ergo Garden Tool Set
If you're new to gardening—or just need some replacement tools—this set is a great place to start. It comes with a trowel, transplanter, and cultivator, which are basically all you need to start a small garden or cultivate plants in a raised bed. These are also a great value: They're sturdy and will last for years, but this trio of tools will set you back just $30.
3
For Hauling Big Loads
The Burro Buddy
If you are a frequent wheelbarrow user, or have a large garden that requires a new mulch, this Burrow Buddy can be a great addition to your gardening tool kit. It sits atop a standard wheelbarrow, and has holders for long and short tools, a drink, and even comes with a waterproof compartment to keep things like your cell phone clean and dry, but still accessible when you need them.
4
Budget-Friendly Hand Saver
Gardening Gloves with Micro Foam Coating
These coated gloves are great for digging around in the dirt when you're planting or weeding. They're flexible and lightweight, but sturdy enough to keep your fingers and palms protected and dry. These come in a pack of three for just under $15 at the time of this writing, and reviewers say they "love" them for their durability, protection, and adorable appearance.
5
Best Knee Protection
Garden Kneeler Seat
This multi-purpose accessory can be flipped to function as either a padded kneeler or as a bench. It's foldable, so you won't have trouble carrying it around the garden, and it even has a removable garden tool bag, which can help keep your tools organized and within reach. The side rails are also great for helping you stand back up, and when used as a kneeler, you won't have to worry about getting your clothes dirty.
6
A Kink-Free Hose
Garden Lead-In Hose
Say goodbye to kinks and curls with this genius hose, which is designed to keep your water flowing freely. Unlike some hoses that can become brittle in the sun, this one is designed to stay soft and pliable, preventing leaking and folding. The hose also stays flat when in use, and coils easily when you are ready to store it away.
7
The Last Shovel You Will Ever Buy
14-Gauge Round Point Shovel
If you need to do some deep digging, this pointed shovel can get the job done quickly and effectively. It has a super strong fiberglass handle and a sturdy blade that can hold its own against hard objects like rocks.
This American-made shovel, which comes with a limited lifetime warranty, has earned a 4.6/5-star average rating from more than 500 customers, who say they're "really impressed" with its durability and call it "the best shovel for digging or all-day shovel work."
8
Best for Spreading Mulch
Steel 16-Tine Bow Rake
While it may look similar to the rake you use for cleaning up leaves in the fall, this model actually serves a different purpose. It works great for spreading mulch, dirt, and leveling soil, making it a terrific addition to any gardener's toolkit.
Since it's sturdier than a traditional lawn rake, it can handle more heavy-duty materials, and can be used to break up clumps of soil and compost, or even rip up some weeds.
This content is created and maintained by a third party, and imported onto this page to help users provide their email addresses. You may be able to find more information about this and similar content at piano.io
Advertisement – Continue Reading Below