SMOKETOWN, Pa. — Rohrer Seeds in Smoketown, Lancaster County, has been around a long time — since 1919, to be exact — but the business is continually evolving. This family-owned business keeps pace with the times and regularly grows its customer base with new products, along with its old reliable ones.
Doug Rohrer, the 50-year-old president of Rohrer Seeds since 2008, is the fourth-generation head of the company. It was founded by his great-grandfather, P.L. Rohrer, who worked as seed manager for Glick Plant Farm along Old Philadelphia Pike in East Lampeter Township, Lancaster County. P.L. Rohrer bought that business in 1919 before purchasing a tract of land across the road and constructing in 1923 what is still the Rohrer Seeds' retail store and headquarters.
What started as a business with a small store selling garden and farm seeds in the early 20th century has survived and thrived. It has grown into the 21st century by progressing into new segments of the marketplace. Adapting to the transition of Lancaster County — from a primarily rural area to a suburban and more commercialized region — has allowed Rohrer Seeds to remain competitive in an era very different from its earlier days. Along with that, Rohrer's has expanded its reach beyond Lancaster and surrounding counties to serve customers within a 120-mile radius of its home base. It also has a growing number of mail-in and online customers from much farther away.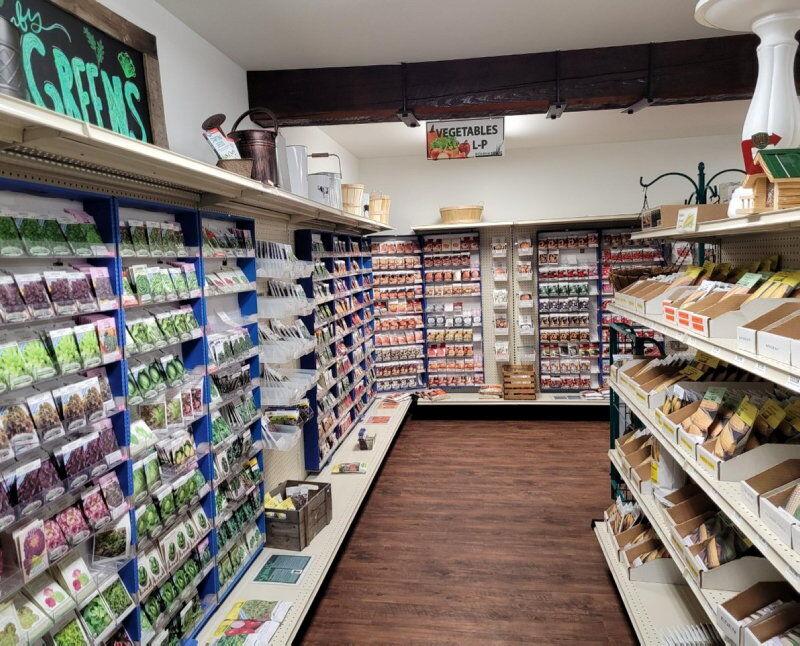 Rohrer's retail store remains the public face of the business. Customers who shop there appreciate its 100-plus racks of vegetable, flower, fruit and herb seeds, as well as a knowledgeable staff available to answer customers' questions. Eight years ago, Rohrer Seeds doubled its showroom size, creating a convenient one-stop shopping locale for its clientele. The enlarged space allows its inventory to include everything from bird houses and bird baths to gardening accessories, garden tools and books about gardening, as well as herbicides and fertilizers. There's even a selection of children's gardening gadgets. The store's unique old-time feel also draws visits from Lancaster County tourists.
Everything From Arugula to Zucchini
A recent February afternoon saw a number of early-season visitors in the store to make seed purchases. One customer had questions about sunflower seeds. Store manager Jim Griesemer asked her, "How tall do you want them to be and what color are you looking for?" Soon he was able to connect her with the chocolate cherry sunflower, a purple variety that grows up to seven feet tall. She also consulted him about her cucumber selection. Griesemer, who knows the seeds well, responded, "You can make pickles with those, but I wouldn't can them."
Nearby, John and Linda Wohlberg of Douglassville, Berks County, were making their annual pilgrimage to Rohrer Seeds. With a shopping list and 11 seed packets already in hand, John said, "That's just the beginning," joking that they grow everything from arugula to zucchini. The couple was planning to plant some seeds in mid-February under their cold frame and had already been harvesting lettuce last week, Linda said.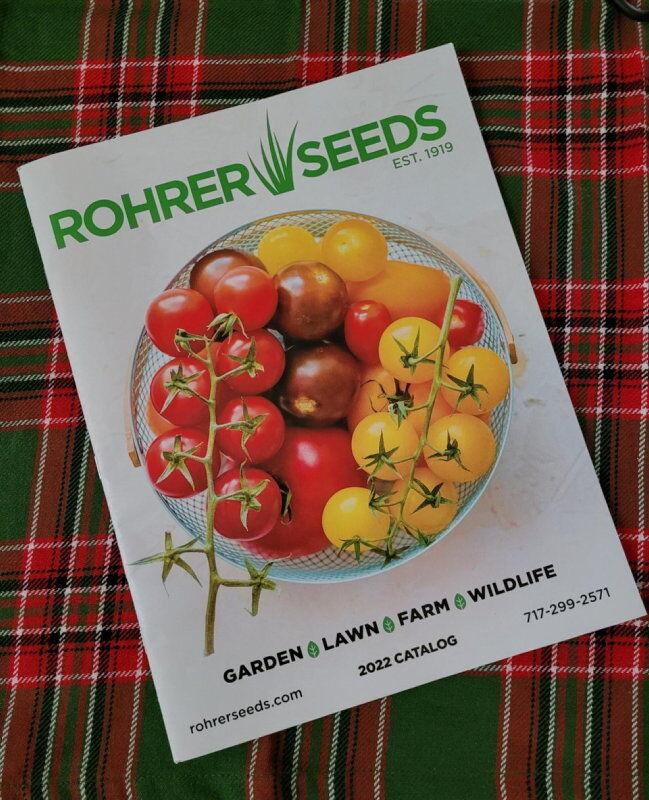 The COVID-19 pandemic was detrimental to many businesses, but not to Rohrers. With more people staying at home, many turned to gardening as an affordable way to enjoy fresh food without a grocery store visit. As a result, Rohrer Seeds' home-gardening business really took off, growing by 40% in 2020 versus 2019, and then another 10% in 2021. Doug Rohrer said that "only time will tell" if the increased interest in gardening will persist into the post-pandemic era.
He attributes much of this increase to the growth in the company's mail-order business. The rise in sales was achieved by revamping the website and doing more online marketing, which extended Rohrers' reach nationwide. Additionally, Rohrers Seeds purchased the seed inventory and marketing list of the former Meyer Seed Co. in Baltimore in 2021, which has expanded the territory served by Rohrer Seeds into Maryland, Delaware and Virginia.
To foster continued growth, Rohrers also increased production and distribution of its annual catalogue from 40,000 copies in January 2020 to 80,000 in 2021 and 90,000 for 2022.
Rohrer Seeds' retail operation is well-known for its annual catalogue. Mailed out during January for decades, it's become a welcome harbinger of spring for generations of gardeners. Rohrer's 2022 catalogue features an eye-appealing new look, with its cover depicting a crystal bowl holding colorful examples of "a mix of the best tomato varieties on the market." It has color photos throughout the catalogue's 75 pages.
Doug Rohrer said customers still like old stand-bys like Dwarf White Blossom snow peas, for instance, but also appreciate new varieties like sweet corn that holds its sugar longer and has shorter growing days.
This year's catalogue highlights some newer trends in the world of gardening. For example, Rohrer's "Container Collection" of 30 seed varieties is geared to people "growing in urban gardens, raised beds and containers … to grow more with less space."
And, with organic produce's popularity, Rohrer's is now in its third year of offering 25 varieties of their Amish Country Organics seeds. Cover crop seeds — something that Rohrers has long sold to farmers — are now available in smaller packages for home gardeners. Seeds for sprouts and microgreens, as well as plantings for pollinators, are other trendy inclusions in the catalogue, which was designed by Griesemer.
The catalogue also has several pages with Rohrers' lawn, farm and wildlife seed lines. Grass seeds for landscaping, as well as hay and pasture needs, are sold in various bag sizes. There are also seeds for wildlife forages and root crops. Rohrer's expanded its line of wildlife food-plot options by partnering with Doug's business associate, Rob Fisher, who acquired Tecomate Wildlife Systems in 2020.
Going Beyond Seeds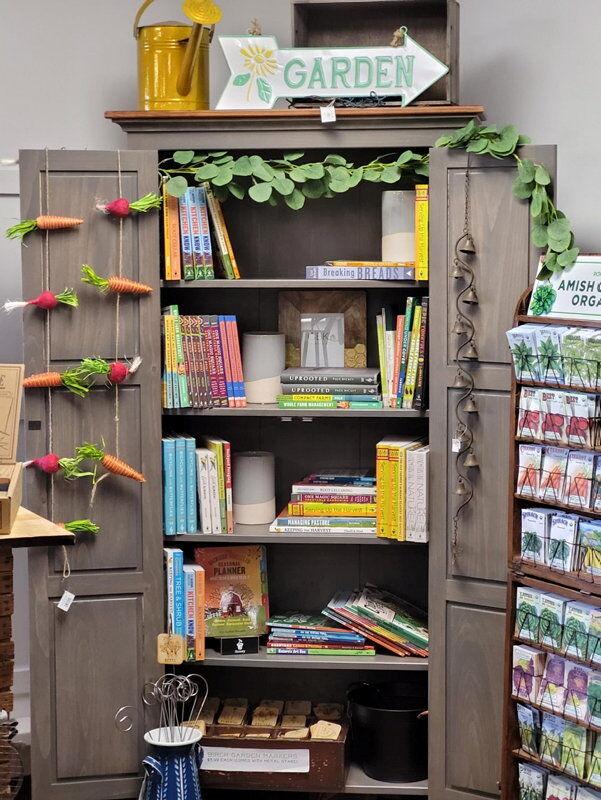 Retail business was once Rohrer Seeds' main income; however, it now represents just 15% of the operations, due mainly to growth in the wholesaling side. With computerized data at his fingertips, Doug Rohrer said, "We're different things to different people." His computer's statistics show that wholesaling is key to why his 40-employee company is thriving.
The company provides garden centers with Rohrer-brand seeds, fertilizers, soils and tools. It also sells Rohrer lawn and garden products, like hydroseed and mulch, to landscapers. Both sales areas have met with success. The landscaping business sector was first undertaken by Doug's grandfather, Willis Rohrer, in the 1960s and '70s as he saw suburbia becoming the new American dream. Likewise, as Lancaster County has become less rural in recent decades, the farm seed side of Rohrers has become a smaller, but still important part of its bigger picture.
Doug Rohrer and his staff are eager to remain in touch with the customers who pass through the doors of their retail store. Much can be learned by noting what shoppers buy and what they're asking for. Social media platforms, including Facebook, Twitter and Instagram, also play an increasing role in the company's customer contact, he said.
Rohrers Seeds will host its annual spring kickoff event today from 8 a.m. to 5 p.m.with giveaways, refreshments and the opportunity to "Ask the Expert" for gardening advice. There will also be demonstrations of how Rohrers packs its seeds, as well as on seed starting.
For further information, go to www.rohrerseeds.com or call 717-299-2571.