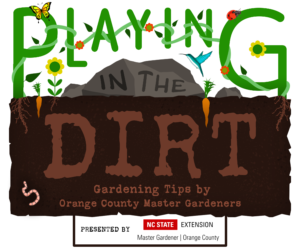 97.9 The Hill and Chapelboro.com have partnered with Orange County Master Gardeners for "Playing in the Dirt," a monthly column exploring the fertile ground of home gardening in our community and intended to provide the information and inspiration gardeners of all skills levels need to flourish! Check back on Chapelboro each month for a new subject – from our gardens to yours!
---
By Margaret Alford Cloud, Orange County Master Gardener Volunteer
Look around after a hard rain and you'll see water standing in low places or running over pavement. With its rolling terrain and clay soil that doesn't drain easily, Orange County has plenty of spots that are prone to stormwater runoff and flooding.
When rain hits a hard surface such as a roof or driveway, it runs off because it can't soak in. The runoff can end up in big puddles in your yard or it can run into ditches along the street and head directly into the storm drain system.
The runoff can pick up surface pollutants such as pet waste, fertilizers and pesticides. If those wash into storm drains, they end up as pollutants in streams and rivers.
Building a rain garden can help solve drainage and pollution problems. A rain garden is designed to collect and filter water runoff that may be coming from a driveway, roof, patio or other impervious (hard) surface in your yard. The rain garden is usually located downhill from your house, in a low place in your yard.
Rain gardens:
Help storm water soak into the ground.
Help with flooding and erosion problems in your yard.
Benefit wildlife, especially when native plants are used.
Protect water quality.
Are low maintenance.
Can add beauty to your yard!
How a Rain Garden Works
Rain gardens are like shallow bowls in the ground that not only collect the storm water but also help it soak into the ground. The roots of plants and the soil in the garden absorb and filter the water so that fewer pollutants run into storm drains. In fact, rain gardens can absorb 30% more water than a similar sized patch of lawn.
A rain garden is not a pond and should not attract mosquitoes if it drains properly. You may see standing water after a heavy rain but it should soak in over the next week. An ideal rain garden allows 1 inch of rainwater to infiltrate the ground in three days.
Locating the Garden
When you are thinking about installing a rain garden, look for a low spot in your yard. A location that normally gets at least four hours of sun is ideal for plants.
The rain garden should be downhill from your house, at least 10 feet away from the house or other buildings, and 25 feet away from a septic field or well. It should be located between the hard surface areas in your yard (such as a driveway or patio) and a storm water ditch, storm drain or curb.
Be careful to avoid utility lines when installing any garden — before you dig, call 811 to have utility lines marked.
Preparing the Garden
To check the drainage in the center of your rain garden spot, try an infiltration test. Dig a hole about 1 foot deep and 1 foot in diameter and fill it with water. If it drains in 12 to 24 hours, it's a good spot for a rain garden. If it takes longer, try a different location.
To divert water from your roof and gutters, run a corrugated, flexible plastic pipe extender from a gutter downspout to the rain garden. To hide the plastic pipe extender, dig a trench, install the extender in the trench and fill the trench with earth or gravel.
Ideally, the rain garden area should be 5 to 10% of the size of the hard surface that generates the runoff. If the garden is smaller, make sure the garden drains well.
Dig a bowl-shaped garden, often about 8 to 10 feet long in the direction of the water flow. Dig down about 10 to 12 inches and rough up the soil that's on the bottom of the "bowl." Use some of the loose soil to build a berm (a rounded, sloping mound of soil) about 6 inches high on the downstream side. Reinforce the berm with rocks and leave a dip or opening for overflow; put rocks in the dip. On the upstream side, use rocks to slow the flow of water into the garden.
Test the native soil before you plant; information about soil testing is below. With the soil test result, you will know how to adjust the soil mix to make the garden healthier.
When you add materials to the garden, aim for a mix of about 50 to 60% sand, 20 to 30% topsoil and 20 to 30% compost. It should have a salt and pepper look. Spread about 3 to 4 inches of mulch on top of the soil mix.
Choosing the Plants
When choosing plants for the rain garden, consider the sun or shade in the area. Look for hardy plants, especially natives, that hold up in both drought and wet conditions. Native plants have adapted to our climate over a long period of time and need little maintenance once they are established. Two publications listed below offer suggestions of rain garden plants.
You can make a rain garden without using plants; aerating the soil and adding mulch on top will help with drainage. But the garden will function better if you add plants. Native plants often have roots that grow 2 feet deep; the deep roots help the rainwater run more easily through the soil. As an alternative, you can plant grass but grass roots grow only about 4 to 6 inches deep. If you plant grass, keep the grass tall – mow it at the highest setting.
Maintaining the Garden
The rain garden should not need much maintenance once the plants are established. You may need to water the rain garden in an extreme drought. You should clean it up occasionally (prune and "deadhead" plants, remove dead plant matter and pull weeds when they are small). Add mulch once a year. If you use native plants, you shouldn't need to use fertilizers or pesticides. Avoid using chemical fertilizers, weedkillers and pesticides because they add pollutants to the runoff.
Learn More
If you'd like to learn more about rain gardens, the Eno River Association and NC State Extension are sponsoring a Rain Garden and Water Quality Clinic on April 9 from 9 a.m. to noon. Participants will learn about stormwater management and will design, build and plant a small rain garden. Details and registration are here.
Additional Resources
Videos:
Online Information:
Book:
Check us out! 
Have a plant or garden question for the Orange County Master Gardener volunteers? Email ocmgardeners@gmail.com or phone 919-245-2061.
The Orange County Master Gardener volunteers hope you'll subscribe to The Garden Buzz, our monthly newsletter that highlights local gardening news, events and tips. You can subscribe here. And please visit our website, The Orange Gardener.
Join us! Would you like to learn more about plants and share your knowledge with the community? A new training class for Orange County Master Gardener Volunteers will start in September. Gardening experience is welcome but not necessary. Applications and information are available here and are due by May 31.
Save the date: The Orange County Master Gardener volunteers will hold PlantFest, a plant sale and festival, on Oct. 8, 2022, 9 a.m. to 2 p.m., at the Bonnie B. Davis Environmental and Agricultural Center, 1020 US 70 W, Hillsborough, NC 27278.
---
Chapelboro.com does not charge subscription fees, and you can directly support our efforts in local journalism here. Want more of what you see on Chapelboro? Let us bring free local news and community information to you by signing up for our biweekly newsletter.
Related