A Massachusetts company has developed a unique, hydroponic growing environment in closed 40-foot freight containers that are being used world-wide to grow produce in areas with bad soil or weather conditions not conducive to outdoor growing.
Bay State natives Jon Friedman and Brad McNamara were developing rooftop greenhouses in the early 2000s when they realized a modular, hydroponic container might be a more viable solution.
Hydroponics wasn't something new. Historians believe this soilless gardening can be traced back to hanging gardens of Babylon in Iraq built by King Nebuchadnezzar about 600 BC. Nutrient-rich water was pumped to the gardens from the Euphrates river to sustain its plants. A water-based growing thread continued through history and in the 1930s a University of California scientist, William Gericke, coined the term from the Greek word "hydro" (water) and "ponics" (work).
Friedman and McNamara, who were building outdoor, roof-based gardens on older residential buildings, looked outside the box, and turned their focus to widely available shipping containers.
They thought they could provide the equivalent of 2 acres of growing space in traditional 40-foot-by-8-foot containers and extend growing seasons year-round everywhere — especially in areas that couldn't support traditional outdoor agriculture or in parts of the world affected most by climate change.
They named their company Freight Farms and placed their first container less than a decade ago. Now the concept is catching on worldwide.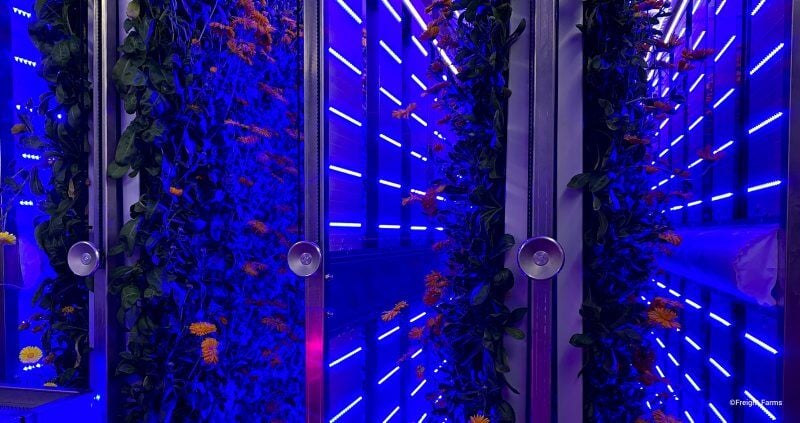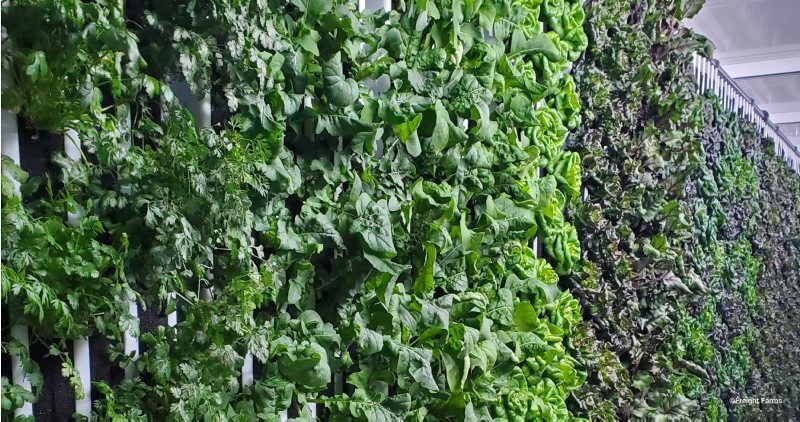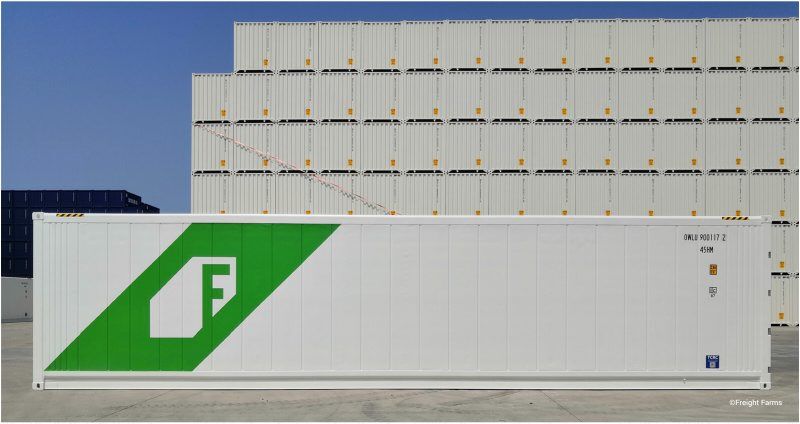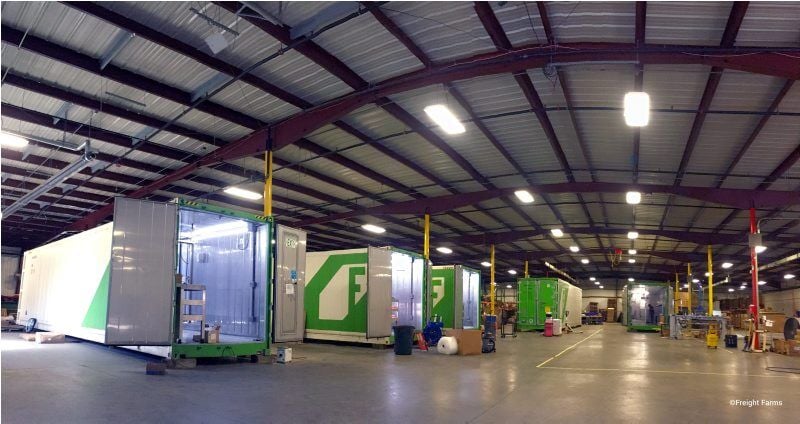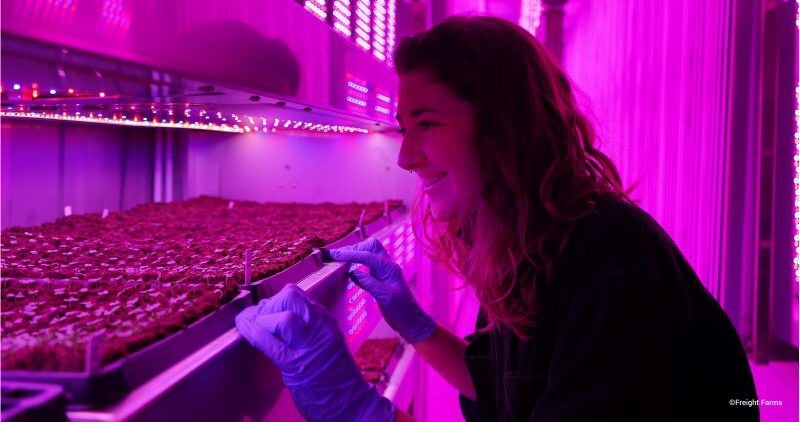 Freight Farms' design was the first containerized vertical growing environment using hydroponic technology. It was initially funded by a Kickstarter campaign in 2012, where they raised the funds to build a prototype to allow local food production to be available to everyone, anywhere.
The first commercial unit was installed at Boston Latin School, the oldest public school in the U.S., to produce fresh produce for the school cafeteria as well as serving as a teaching classroom for high school students.
"The company has placed 350 units in 48 states and 32 foreign countries," Friedman said.
The company also introduced proprietary software called "farmhand" to help automate many farm processes, and is manufacturing its 10th generation container, the Greenery S, incorporating the latest technology and automation for vertical, hydroponics growing.
Growing Strong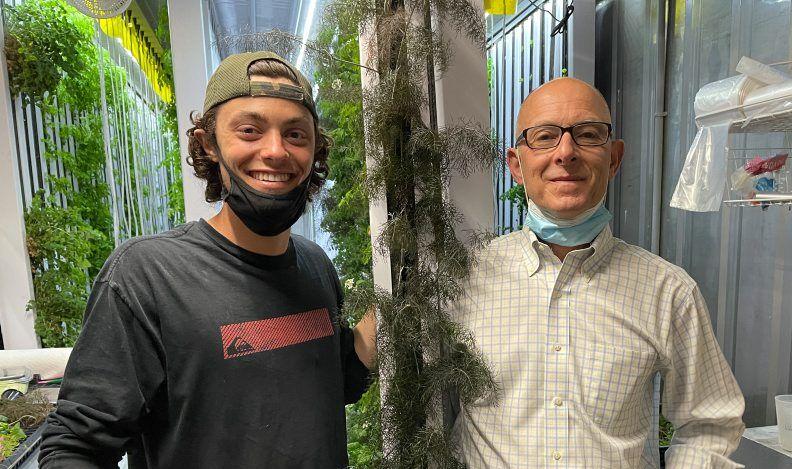 Although the Freight Farms container units are capable of growing a variety of produce, leafy greens are its specialty and the best choice for farmers looking to sell their harvests year-round.
Containers also have been embraced by educational institutions to supply fresh vegetables for cafeterias and serve as learning and teaching space.
St. Joseph College in Standish, Maine, has been operating a Freight Farms unit for years to both supply fresh vegetables to its dining facilities as well as for student employment.
The site also has been a tool for community involvement with St. Joseph students working with a town Institute for Local Food System Innovation utilizing the Freight Farms container in partnership with a large hydroponic farm and commercial processing kitchen for events and agritourism.
With a decade head start in the business, Freight Farms does not have major competition in hydroponics container gardening production, although, in recent years, it has seen significant growth in multiple indoor soil- and water-based farming formats including warehouses, greenhouses and pods that are addressing growing produce year-round.
Climate change has increased concern about food production for growing populations worldwide with extreme weather conditions and higher levels of carbon dioxide in the atmosphere.
Friedman and McNamara have always been aware that the challenge to expansion for stand-alone, container gardening is the cost of power and each new rendition of their growing units has addressed both power consumption and automation to be more efficient.
Their latest Greenery S model uses growing lights that are 50% more efficient than previous models and the technology allows farmers to choose pre-set growing modes to maintain higher yields — 20% higher than earlier models — while prioritizing energy use.
Addressing affordable and clean power for customers, Freight Farms recently partnered with Arcadia, a Washington, D.C., energy company to offer affordable, renewable power options for customers.
Going forward, Friedman said growing container units will continue to become more efficient, allowing owners to increase their growing yield while having more control of their energy use to power the unit.