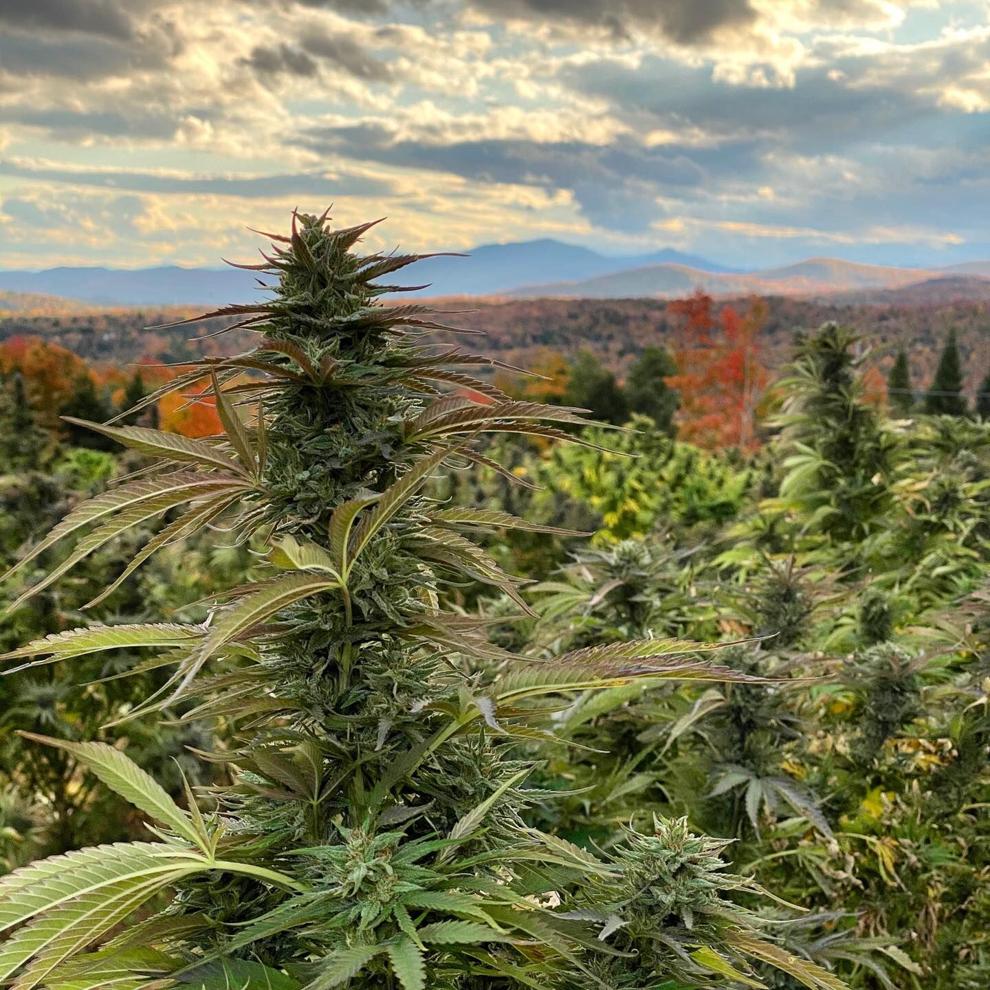 BRATTLEBORO — Just like the plant it's named after, Vermont Hempicurean needed some elbow room to grow properly.
The CBD and grow shop has just done that, now occupying a big stylish barn on Route 9 in West Brattleboro and fully branching out into the growers' supply business with the Vermont Grow Barn.
But, wait, there's more: For those readers who enjoy CBD's wicked sister, THC, they'll be delighted to hear that work is underway on a third related business, the Vermont Bud Barn.
One-stop shop
All the brainchild of Hempicurean founder Scott Sparks, these three businesses under one roof will fulfill his dream of being the destination in Southern Vermont for CBD, THC and grow shop consumers.
"I want people to know that we will have it all: if you want to grow it, if you want CBD, if you want cannabis, if you want edibles. Everything," Sparks said.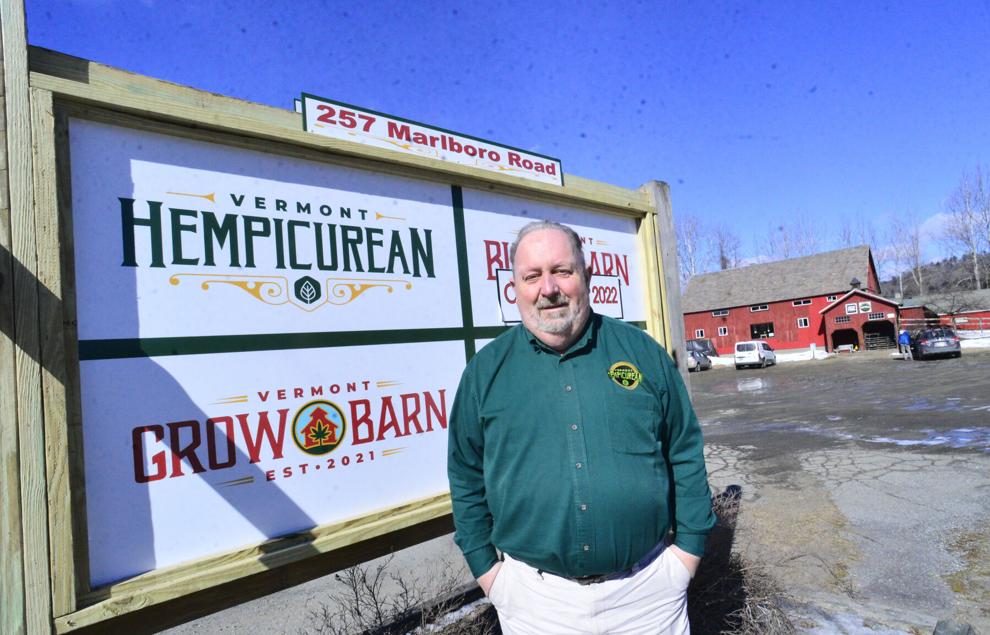 The new location, with a giant parking lot at 257 Marlboro Road, is already working well and showing its promise, as extensive renovations are underway for the coming cannabis retail shop.
"It really fits the vibe, if you knew my other store," said Sparks.
An earthy, funky feel
Furnishings inside the new Vermont Hempicurean are a funky mix of rehabbed, reused and upcycled materials, like the shop's display case, which features salvaged wood from West Dummerston's Deconstruction Works.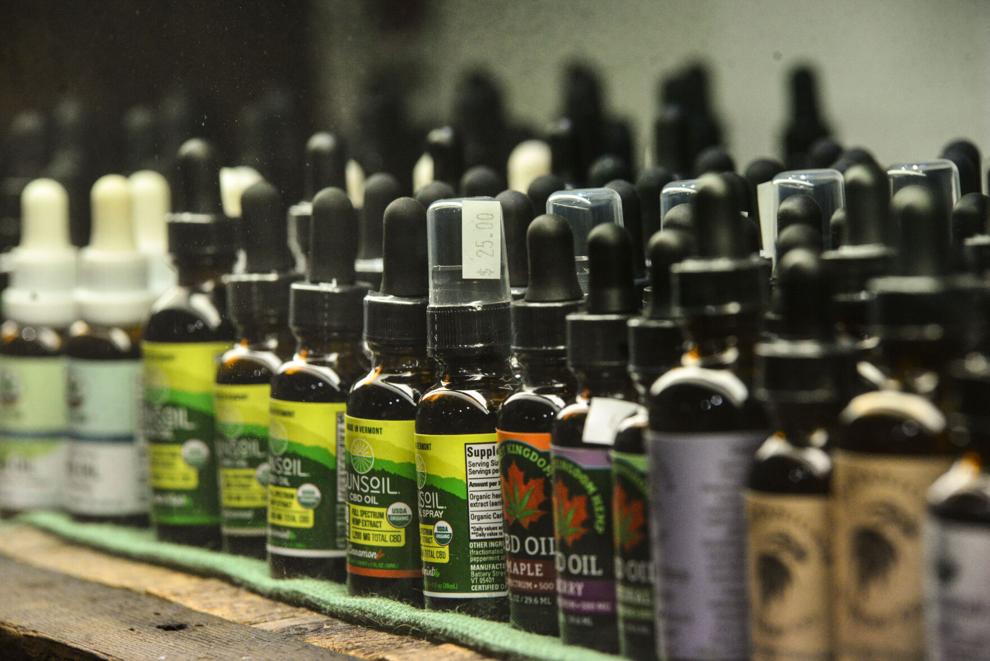 On the wall: a painted section of antique tin ceiling tile. "These things were under a pile of snow with peeling lead paint, and I brought them to Khameleon Koatings in Brattleboro, and Matt sandblasted and powder-coated them. I have five of them, a reminiscence of my old store," said Sparks. He said the motif will carry into his new retail cannabis space, too.
A quick move from old site to new
The small but hardworking Hempicurean team and a few movers shouldered the store from its former downtown location to its new site Jan. 31.
"We moved on Monday, and we were open by Wednesday. It was a ton of work. Multiple trips," he said of the heavy lift.
The CBD business will remain separate from the other two enterprises, retail and grow supplies, although there might be some product crossover. The new retail area will have its own entranceway, on the side of the building opposite the grow store and next to the CBD store.
Vermont Grow Barn
Inside the Vermont Grow Barn, longtime employee and manager Jeremy Deschaine has refined Hempicurean's products after two years of testing the waters with grow supplies at the former location.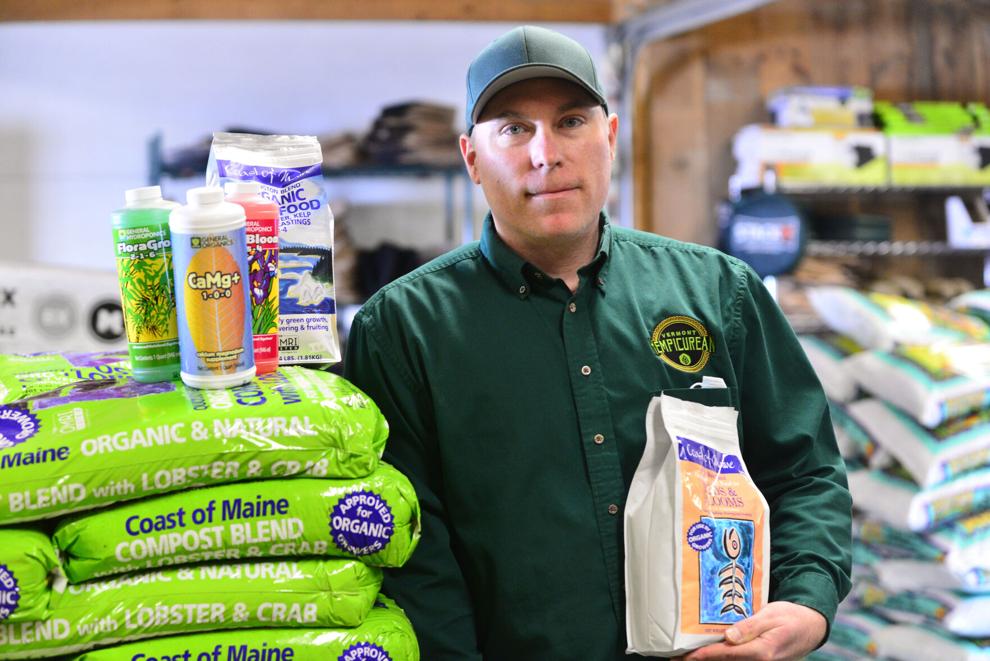 Many of the products that you see on the shelves are items that Deschaine has used, and he can advise new growers and veterans alike, as he stays on top of the industry trends.
"I prefer to use organic products myself, and I use some of these products in my vegetable garden, too. Tomatoes definitely get some love from some of these organic dry nutrients," Deschaine said.
Different grow methods
He's tried a number of different grow methods, including hydroponics, in which plants grow suspended above oxygenated and nutrient-rich water instead of soil.
"Now, most people are kind of going for soil-grown, because you get — in my opinion — a better product. That's how it's been for thousands of years, and that's a more natural way of growing. Hydroponics is a fun sort of way for me, but it's just too techie or sciency for some people," Deschaine said.

Leopard Frog art gallery, gift shop finds habitat in West Brattleboro
How deep a customer wants to get into soil is totally up to the grower, as Deschaine can help cultivators go for grow-ready soil or build it from scratch, or something in between.
"It can be super easy, like with a premade mix, or you can add nutrients as you go. And you can even get right into the microbiology of it all, get into measuring your microbes with microscopes and stuff like that," said Deschaine.
The new retail space
Like dispensaries in Massachusetts, the new retail space will have a check-in area and security, as well as smooth customer flow inside, where there will be about three customer service stations.
Future retail patrons who are familiar with Hempicurean's former shop might recall a string of dangling, old school Edison light bulbs that adorned the store. Those will be lit and adorn the new cannabis shop, Sparks said.

New study links hemp to COVID protection
There will be a safe room, where products will be stored, but Sparks is waiting for more state guidance before he commits to a build.
In a third part of the building Sparks hopes to eventually house a grow room, where Deschaine will curate and raise special strains for retail sale at the site; Sparks said a cannabis kitchen for edibles is also a future possibility.
0:26+5
Vermont Hempicurean plans to 'grow' business
Deschaine, who will eventually oversee all operations, said he and Sparks are looking forward to supporting small Vermont growers and businesses.
"Initially, I'm planning on buying products and selling them. Once we get growing, we want to have a house brand, then start manufacturing edibles," said Sparks, who comes from the food industry. "Having an edibles kitchen makes sense. In a perfect world, at some point if they ever allow it legally, I'd like to do a cannabis cafe of some form, too."
A lot still in planning
But, state licenses haven't been issued yet, so most major moves remain in the planning stage, Sparks said.
Sparks will pursue all the licenses — cultivation, manufacturing and retail — now, so that he doesn't end up waiting in a long line behind other entrepreneurs later.

Vermont Hempicurean owner looks ahead to his next green wave
"Even though I'm not going to grow or do manufacturing right away, I would rather pay for the license up front, and then just have my place in line," he said.
Outdoor grow possible
At this point, he's eyeing a 1,000-square-foot indoor grow space and is unsure if outdoor cultivation will play out, statewide and local questions remain about fencing and security. Sparks is consulting with two New England firms now on security for his Route 9 location.
"By the time we get there, I'll be fine. It's just setting it all up and following all the rules," said Sparks.
Just like his Vermont Hempicurean brand, the new retail shop — Vermont Bud Barn — will stay true to its commitment to Vermont-only brands.
"All Vermont all the time," said Deschaine.
Sparks added: "I wouldn't do anything else."
Visit Vermont Hempicurean and Vermont Grow Barn, which are open from Monday through Saturday, 10 a.m. to 6 p.m. and Sunday from noon to 4 p.m. Call 802-246-4367 or email hempinfo@vthempicurean.com.