When Jean Tuma describes her niche in the floral market, fragrance and charm are at the top of the list. Her 2-acre flower farm in Quakertown, Pennsylvania, is called Flores Temporis LLC. The farm grows specialty heirloom blooms with a focus on "the way flowers used to be," she says — fragrant, romantic, charming and unique. Tuma said these flower varieties are different from the mass-produced varieties that Americans have become so accustomed to.
She recalls living in New York City for 10 years and seeing flowers at every corner shop, but they never really caught her eye.
"They were lifeless, all the same and wrapped in plastic; they looked like little mummies in plastic," she said.
In 2004, she moved to a new home on a 5-acre property in Bethlehem, Pennsylvania, and the birth of her son followed soon thereafter. She started noticing crocuses peeking up from the earth in the spring, then snapdragons and bachelor buttons.
"There is a rhythm to the seasons and I became attuned to that," she said.
"Some of my happiest memories that I have of gardening are sharing time with my son — making sunflower houses, bean-pole teepees and fairy gardens," she added.
From the beginning of her flower business, which launched in 2018 in Bethlehem, her mission has been to produce top-quality, specialty cut flowers in an environmentally responsible way. Several years into the business, she moved to Quakertown for her son's schooling. Her floral business now thrives as part of a 90-acre, idyllic 1820s farmstead, of which she leases 2 acres from a crop farmer.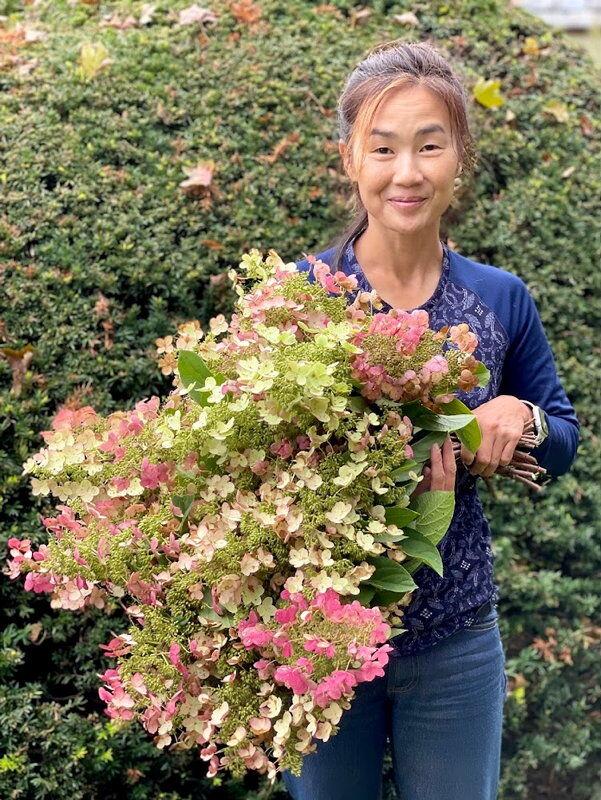 She has a compact system of garden beds, as well as high tunnels and low tunnels to aid in season extension. She also uses a barn for cooling and processing the flowers.
"I always loved nature and plants," Tuma said. "When we broke ground for a vegetable and berry garden for my son, it was really important to us that he grow up spending as much time as he could outside. We wanted to instill a respect and love for nature, and just to drive home the fact that all living creatures are connected and we need to be stewards of our earth. From the very beginning, it was important to use organic products and natural, non-synthetic inputs, always keeping soil health and protection of pollinators (as priorities). That was a key value," Tuma said.
Flores Temporis' current niche is servicing weddings and events, working with floral designers in the Philadelphia area and the Lehigh Valley.
"I have relationships with floral designers — some are known for vibrant use of color and others for dusty, neutral palettes. I have a handful of clients that we talk about crop planning — what events are looking like over the next year, what colors, varieties and trends they are seeing," Tuma said.
She also offers limited flower subscriptions through a CSA, or community supported agriculture. Customers order their flowers from her in advance and then they pick up their bouquets at a market in Fairmount. She also sells through a collective of farmers in Philadelphia called American Street Flower Market.
Customer Education Is Key to Her Mission
"People want to send flowers to people they can't see," Tuma said. "They say that food feeds the body, but flowers feed the soul. Flowers truly convey so many emotions and feelings: friendship, love and gratitude to name a few."
Customer education is a key component of her mission. Tuma said that only 20-25% of flowers sold in the United States are American-grown and often they have little to no fragrance, especially in the grocery store. She said she will often see people leaning over flowers in the grocery store, eyes-closed, taking a deep whiff, but there's simply nothing to smell.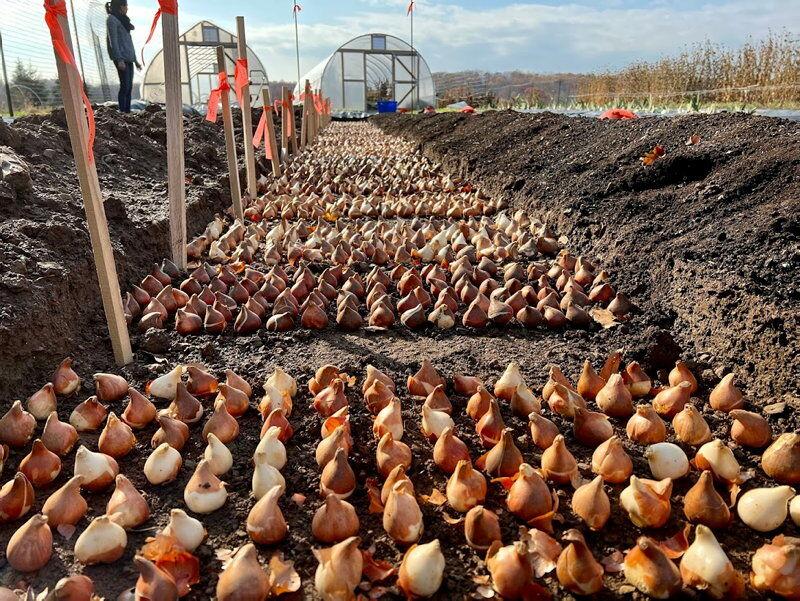 That's because, according to Tuma, the fragrance has been bred out of the flowers to make them more adaptable to being shipped long distances, often across oceans and continents.
"When you breed a flower so it can survive in a box for two weeks and it needs to travel across the ocean, those fragrance genes are bred out, because those fragrance genes are tied to a flower's Teflon ability to travel," she explained.
She continued, "My flowers aren't like carnations in the store that last for two weeks, but they are so beautiful and so fragrant; my goal is always to have them last for seven days," she said.
Tuma has seen unprecedented growth in her business, due in large part to the COVID-19 pandemic.
"With the mental duress and isolating (of the pandemic), people had a primal need to connect with nature. There has been a boom in interest," she said.
Flores Temporis' offerings begin in April and extend to Thanksgiving. According to Tuma, they are best described as "jewel-box blooms that are really special and may not be available from a wholesaler because of the rigors of transport."
Some of the specialty spring blooms that she grows include anemone, ranunculus, hellebores, French lilacs, Icelandic poppies, spring blooming bulbs, peonies, iris and digitalis.
In the summer, she grows lisianthus, snapdragons, delphinium/larkspur, veronica, celosia, lavender, hydrangea, rudbeckia, physocarpus, zinnia and assorted annuals and herbs.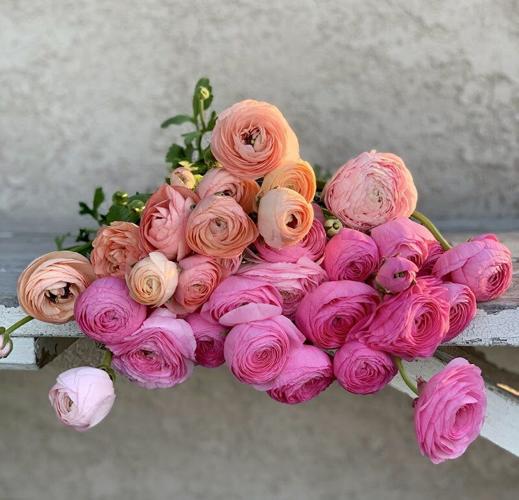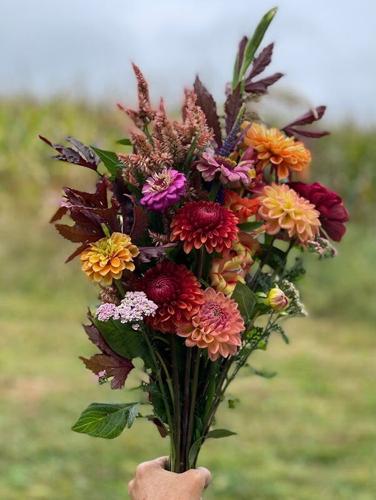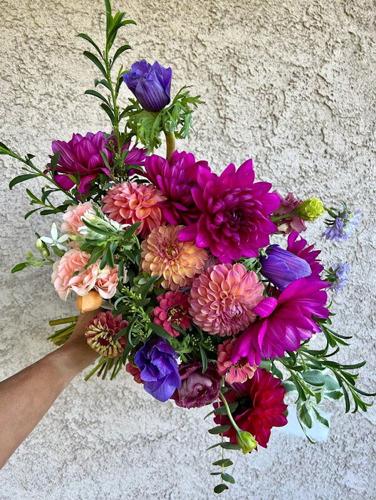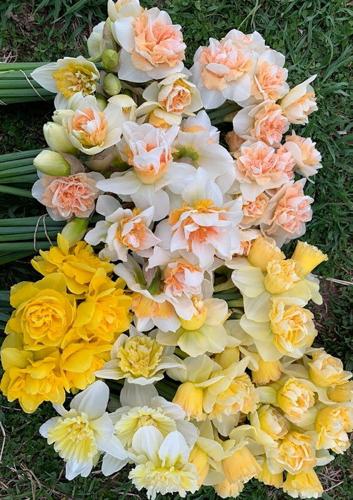 And, in the late summer and fall, she grows her most-prized flower — dahlias — which Tuma describes as "divas" from start to finish. She also focuses on eucalyptus, heirloom chrysanthemums, solidago, beautyberry, strawflowers and numerous varieties of evergreen branches.
Her plants are organized in the field by variety, height and color, for efficiency in harvesting.
While there are many challenges in flower farming — weather, pests, disease and, of course, the market itself — one of the most difficult is curating and expanding upon a unique collection.
"Acquiring a new tuber is like trying to get a ticket to a hot event — I have seen websites crash. It's very hard to even find, let alone get your hands on a new variety. … If you have your own stock, you have to continuously assess if it will make a good cut flower: Is the bloom attachment strong? Is the bloom facing down or up? When you add a plant, you must evaluate the characteristics to see if it makes the grade — curating your collection is important," she said.
She did just that when she moved the business from Bethlehem to Quakertown, painstakingly digging up and moving thousands of bulbs and tubers, always ensuring that the varieties were labeled, organized and stored appropriately.
She does this same process of digging up, labeling and storing at the end of every fall season.
"You have a killing frost and you have to wait until the foliage blackens … let the skin cure so that it is more likely to store better, then dig everything up, about 1,000 to 2,000 clumps, by hand. I remove the supports first, then take a garden fork and dig them up by hand without breaking the tubers. Then I have to get them in a frost-free spot and keep them labeled, because people like to know what they're getting. Then you have to successfully store them over winter, which is pretty tricky, evaluating humidity, temperature and packing medium. If it survives, then I can propagate it," she said.
Tuma says that "drop-dead gorgeous flowers tend to be more intensive" labor, but they are worth the effort.
"With flowers, when you see a dahlia, and another and another, you realize there are hundreds of varieties, and one is more beautiful than the next — you just get hooked," she said.
Tuma is a member of the Association of Specialty Cut Flower Growers and is a self-professed "nerd" who loves to read about everything.
"There are so many different cultivars and rare seeds, the diversity that is out there is amazing. There is so much to learn: cover cropping, integrated pest management, soil biology, and then the needs of the plants themselves. How can I mimic their ideal growing situations using plastic, shade cloth and other structures? How can I use the good bugs to keep the bad ones in balance? It's endless. That's what I really enjoy about it — there's always something new to learn," she said.
Winter is a slower season, but there are still many tasks to be completed for her business, Tuma said, like updating the website, attending conferences and webinars, building shelves, disinfecting, sharpening tools and ordering supplies and compost.
"I review growing data, sales data, and see if there were any gaps in production or spikes for a certain flower in a certain month. I also order ladybugs early for IPM. The tunnels also require maintenance, because you have to ventilate them by hand by lifting up and lowering the sides; winter is a break, but it's not a break," she said.
Flores Temporis will soon be open for the season.
For more information, visit FloresTemporis.com or search for it on Facebook or Instagram.