THIS WEEK'S SIGNIFICANT SEVERE WEATHER & HISTORIC BLIZZARD:
Nearly 900 reports of severe weather have been recorded since Monday from Oklahoma & Texas to far southeastern South Dakota to Minnesota to Wisconsin, to Indiana, Ohio, Kentucky to Alabama & Mississippi.  Severe reports today have come out of New Jersey to Connecticut with record heat there near 90.
Much of this was yesterday, lastnight & then Tuesday.
Hailstones reached the since of a small cantaloupe in Texas at 5.5″ in diameter.  Some straight-line winds 90-100 mph also likely occurred.
Confirmed tornado count will likely exceed 40.
Meanwhile, historic, crippling blizzard dumped 20-36″ snow in North Dakota with +60 mph winds.
______________________________________________________________________________________________________
TODAY'S GRADIENT WIND EVENT:
Gusts today peaked at 44-63 mph.  Highs reached 55-62.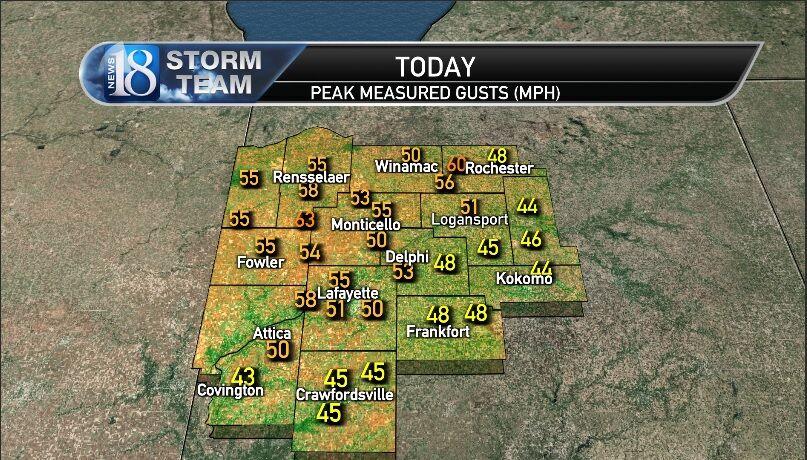 TONIGHT-EARLY EASTER SUNDAY MORNING:
Some clouds increase north tonight….isolated shower possible far north late.  Lows 38-42 with wind decreasing to gusts from the southwest at 20-25 mph.
We clouds up over the area Friday afternoon with some scattered showers/few t'showers late afternoon-evening with showers & isolated t'showers tomorrow night peaking in coverage. 
Rainfall totals of 0.12-0.30″ are possible.
After highs Friday of 58-65 with southwest winds ramping up to gusts of 30-40 mph, we cool to 39-43 tomorrow night.
Saturday features sunshine (more in the way of cloudiness north) with west-northwest to northwest winds gusting 30-40 mph with highs 50-57.
With light winds & clear skies, Saturday night looks cold & frosty with lows 28-32.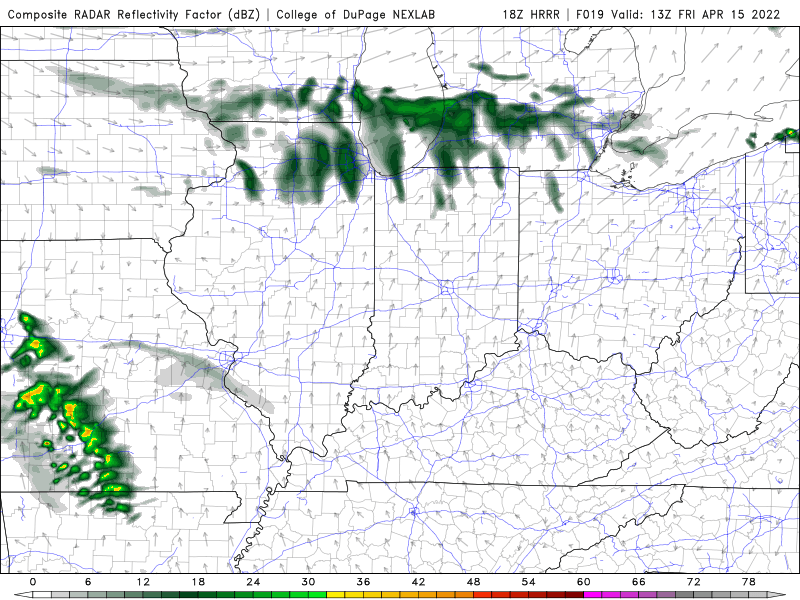 ______________________________________________________________________________________________________
EASTER SUNDAY TO THURSDAY OF NEXT WEEK:
Easter Sunday has sunshine, then clouding up PM with east wind 10-20 mph & highs 50-56.  Some showers are possible late evening to Sunday night.
A few showers are possible Monday morning, then sun with highs Monday at 53-59 after 40-44 in the morning.  Winds will be west-northwest at 20-30 mph.
Total rainfall of 0.15-0.25″ is expected.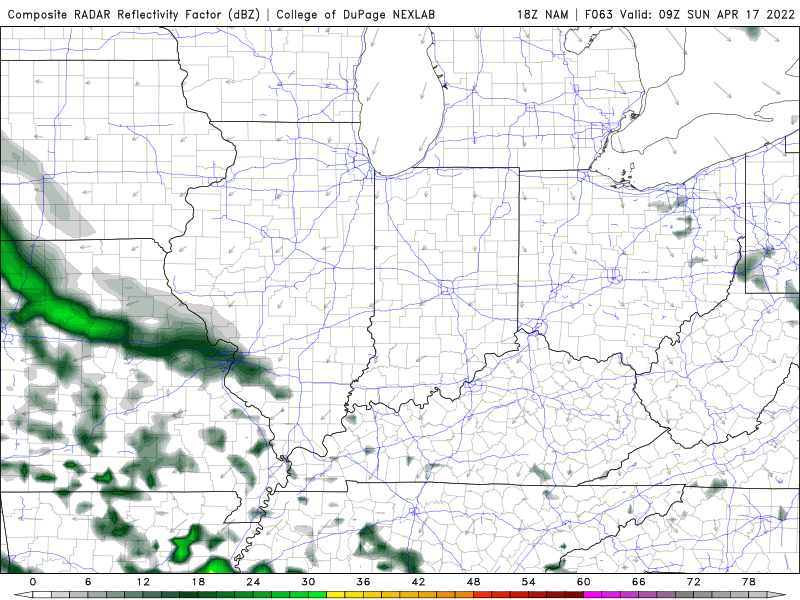 As for Tuesday, we have sun with 31-36 in the morning (with some frost), then it clouds up again with 55-62.  Winds look light from the west-northwest, turning quickly to the east to southeast in the PM.
Temperatures may drop to 42-47 Tuesday night, then begin to rise to 48-53 by early Wednesday morning with southeast wind increasing to 14-22 mph.
Wednesday looks mostly cloudy to cloudy & windy with south-southwest winds 25-35 mph.  Numerous showers & a few t'storms are possible late afternoon-evening.  They will last into Wednesday night before tapering with lows 44-52.
It appears that any severe weather risk will stay over southern Missouri to Arkansas to Oklahoma & northeastern Texas then eastward to Georgia through Sunday night-Monday.  SLIGHT RISK parameters set up Arkansas south & southeastward, while MARGINAL get up to southern Missouri.  ENHANCED RISK parameters appear over central Mississippi.
Thursday looks to have a clearing trend with west winds 20-35 mph & highs 63-69.
A total of 0.75-1.00″ of rainfall is possible.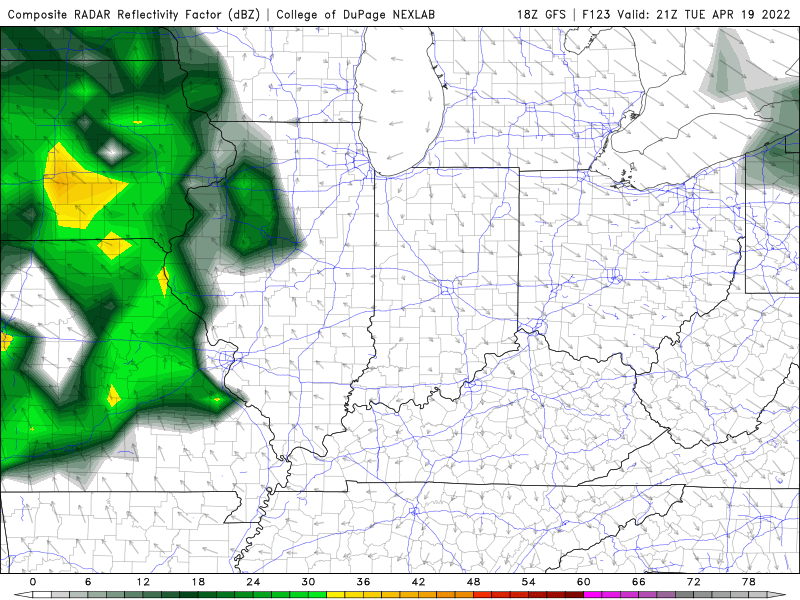 You can see the severe t'storms southern Missouri to Texas & then across the South.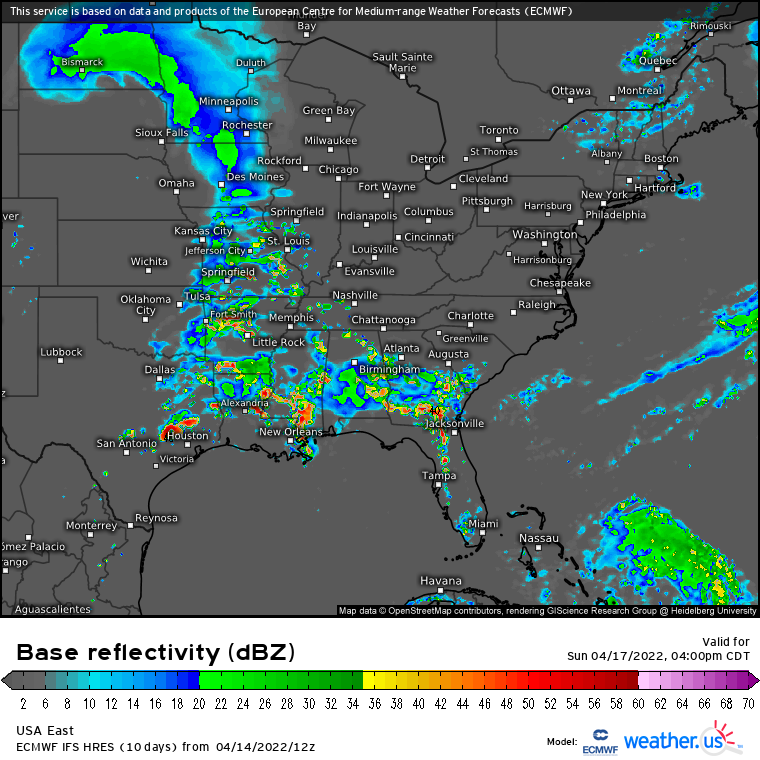 ______________________________________________________________________________________________________
APRIL 22-25:
Friday, April 22 shows a trend toward sun & 60s with wind turning to the southeast.
Note the warmth building, though!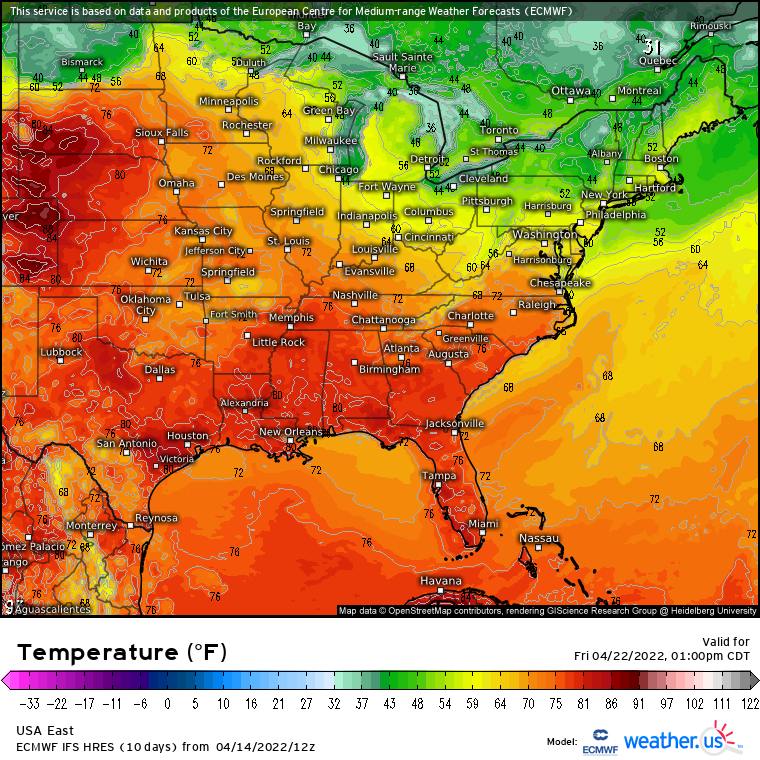 CIPS analog shows the likelihood of severe weather blowing up in the Plains Friday afternoon-evening, April 22 (Earth Day!):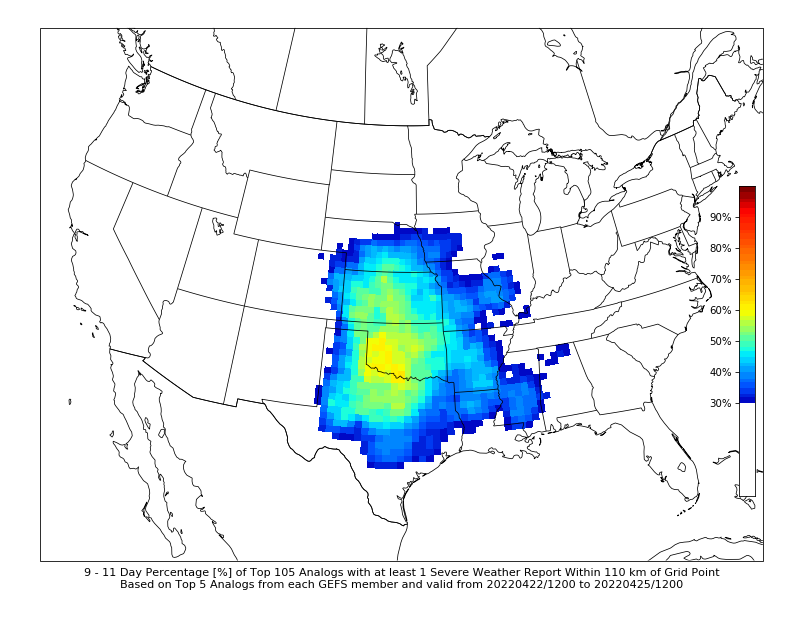 The weekend of April 23-24 & that Monday, April 25, features warmth with 80s with strong south-southwest winds.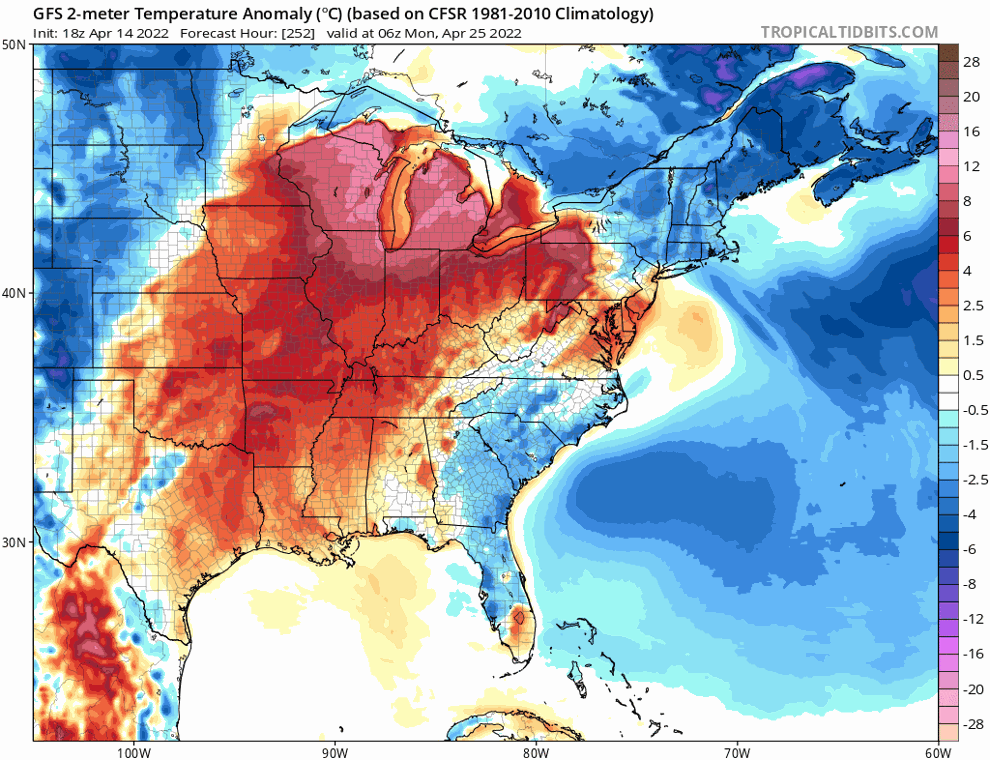 Look how warm it is in the overnight hours of April of 24-25!  Impressive 60s to 70 here, 70 to the 70s to the Northern Plains.
It is quite possible that overnight lows on the nights of April 24/25 & 25/26 may not drop below the 60s in any area of the Lower 48 east of a Minnesota to Texas line (except around the cold waters of the Great Lakes & over the higher terrain of (northern New York to northern Maine).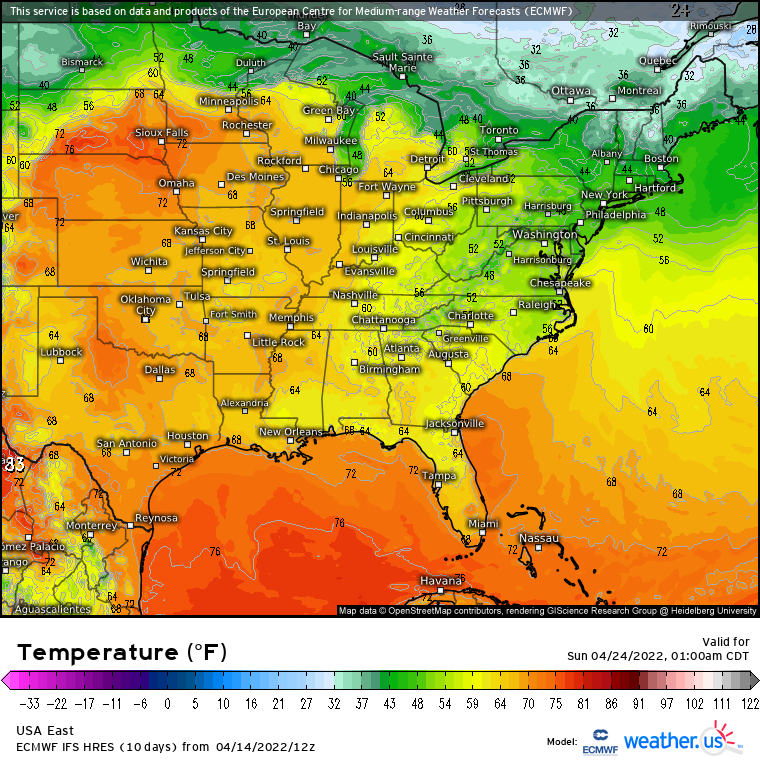 A clear sign of significant warmth is the arc of t'storms with some severe weather risk way, waaaaayyyyy north along the U.S. Canadian border from North Dakota to the Northern Great Lakes.  That is the leading edge of the big warmth.
However, thoughts are that severe weather outbreak will occur from North Dakota to Texas on the evening of April 25.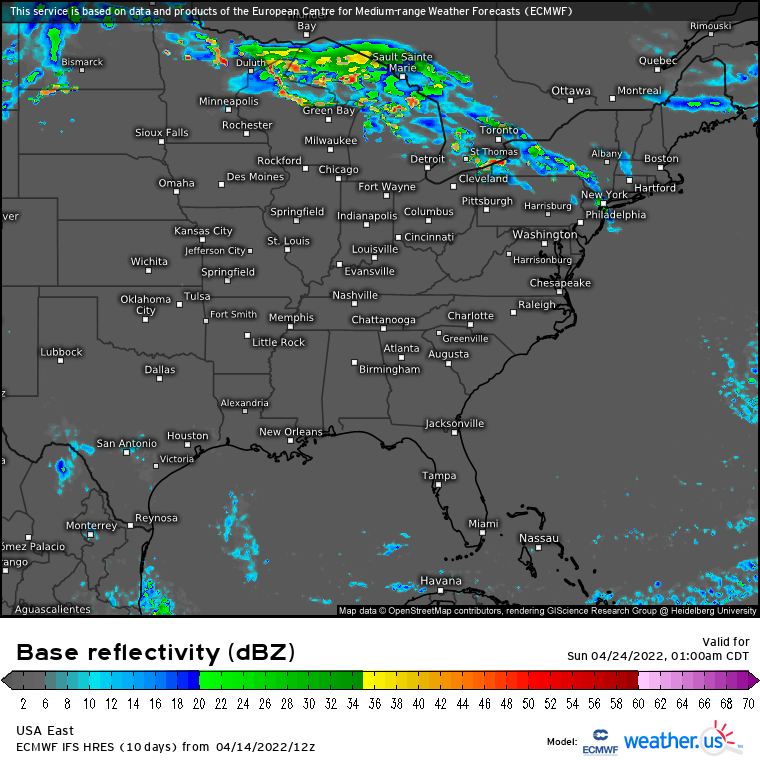 FOR NOW…………APRIL 21-25 LOOKS WINDY, DRY & TURNING MUCH, MUCH WARMER.  SOILS MAY DRY OUT ENOUGH FOR EARLY FIELD WORK BY APRIL 23-25, MAINLY ON BETTER-DRAINED GROUND.
______________________________________________________________________________________________________
APRIL 26-29:
Positively-tilted upper trough may become sharply negatively-tilted, aiding in severe weather development in this period, followed by a big cool-down.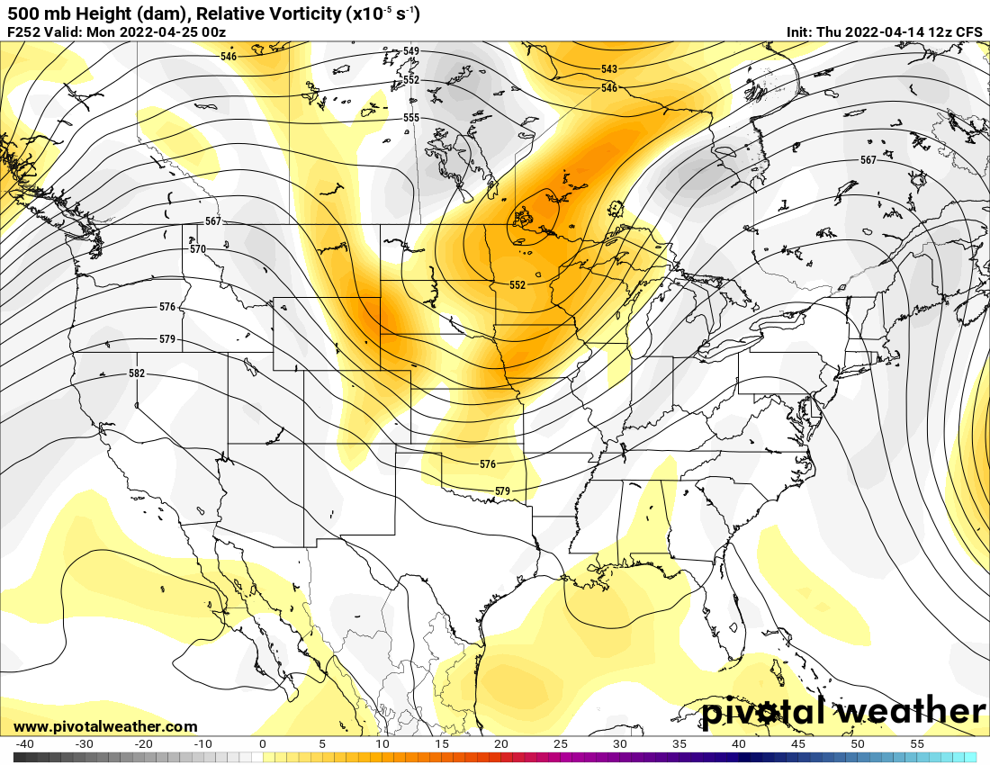 IN POTENTIALLY ACTIVE PERIOD APRIL 26-29, POTENTIAL OF 1-3″ RAINFALL IS POSSIBLE.
____________________________________________________________________________________________________
APRIL 30-MAY 11:
Early May looks cool with some nights of frost & light freezing risk.
At this point, however, it looks drier than normal.
IT DOES APPEAR A NICE WINDOW MAY DEVELOP FOR WIDESPREAD FIELD WORK & CORN PLANTING IN A COUPLE BIG CHUNKS IN THE MAY 2-11 TIME FRAME.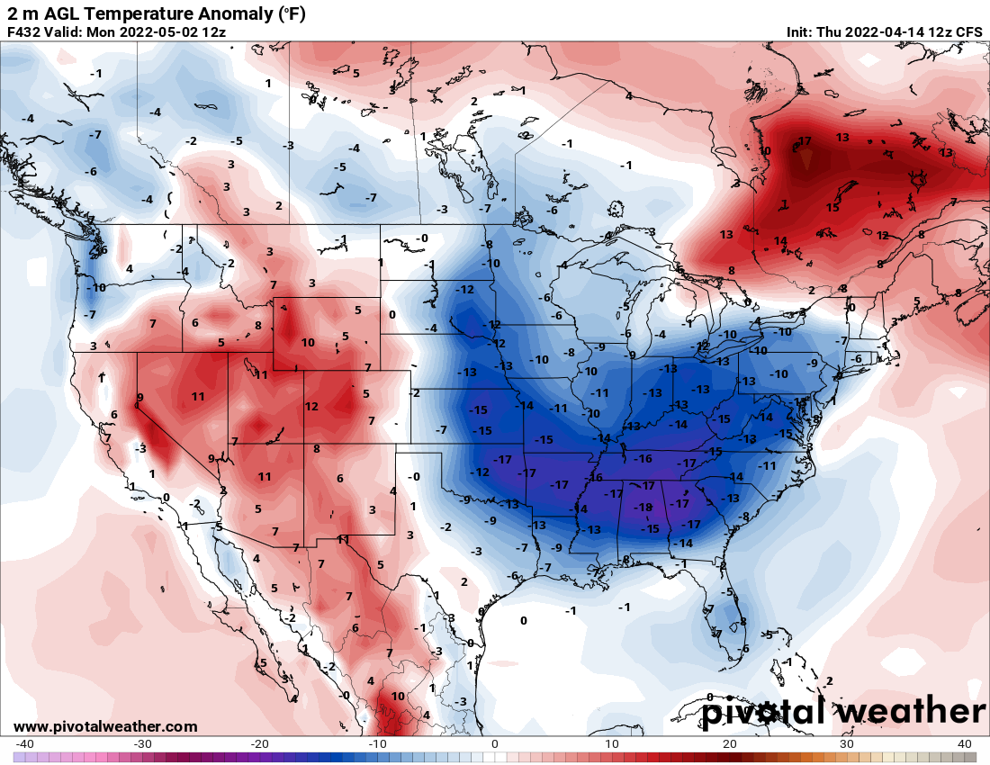 Unfortunately, it may not be just one round of chilly weather in early May with frost risk, but a couple rounds.
It does not look like a hard freeze in any of the round, but frost & local light freezing is possible with lows 29-33.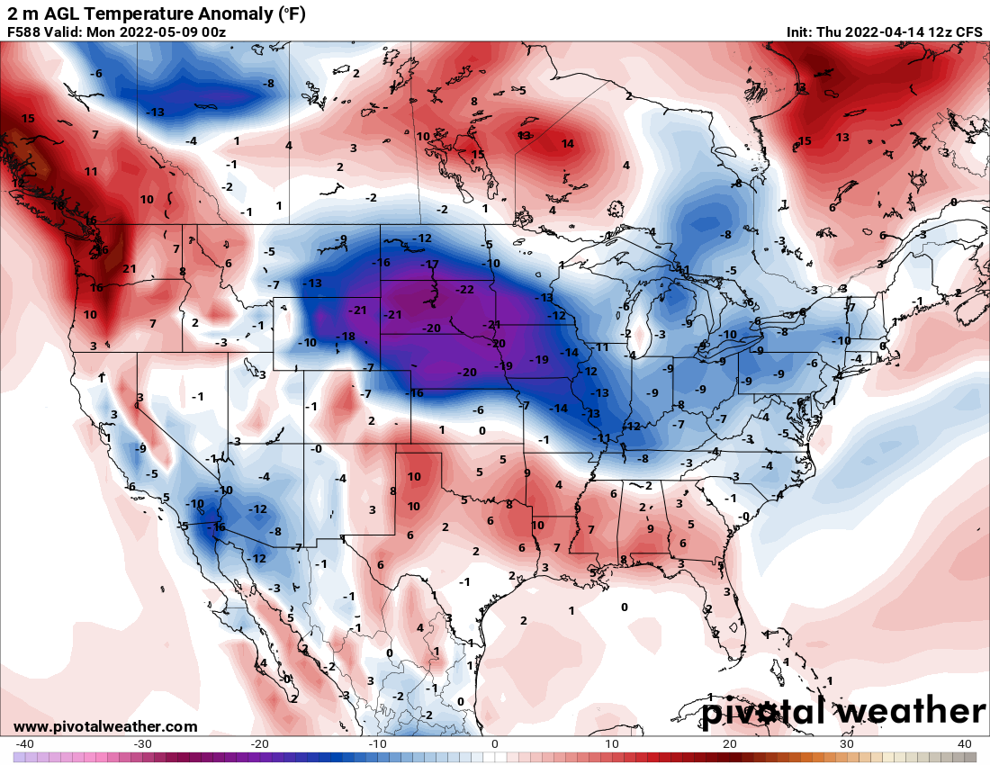 ______________________________________________________________________________________________________
MAY 12-17:
A agree with this pattern shift & potentially active storm track here mid-May.
Severe weather risk will go up as storms track from the Texas Panhandle to Wisconsin.
This is a good set-up for severe weather risk here.
Note the above normal temperatures here & the below normal temperatures to our northwest.  A strong upper jet will likely exist in the area while a strong low-level jet (partially due to that baroclinicity or temperature gradient) will pump warm, unstable air northward around a Bermuda-type high.  Meanwhile, strong subtropical jet will likely race out of Texas to Tennessee, leading to potentially widespread diffluence aloft (lift of the air) in our region.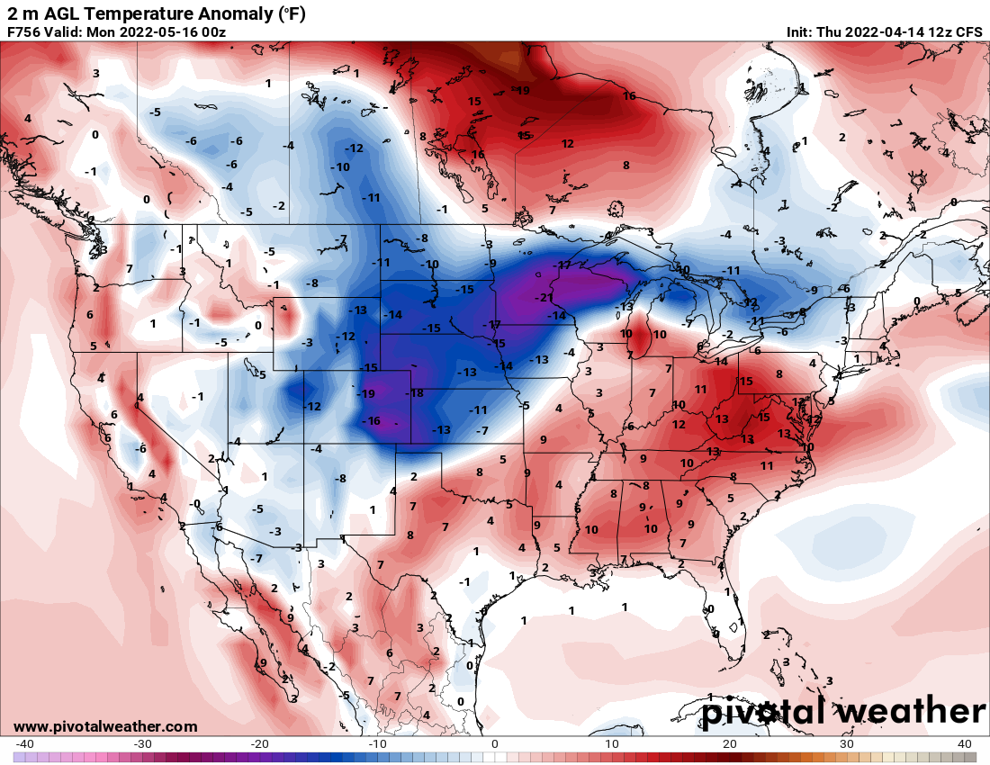 ______________________________________________________________________________________________________
BEYOND MAY 17:
My thoughts are that summer heat in late May will open a window for field work & crop planting after mid-May wetness.
Analog suggests we close out the month wetter.
Very active hurricane season is expected, perhaps similar to 2021.  Analog suggests up to 7 land-falling tropical storms or hurricanes on the Gulf Coast June-October.
This spells some opportunity for rainfall here, as does the "Ring of Fire" with storm complexes on the periphery of the big Plains & western Corn Belt upper ridge with widespread drought.
Again, this ridge will likely expand & contract through the Summer bringing us intense heat, followed by relief, then surge of intense heat & just back & forth.  One day turns refresher, while a couple days later it is brutal.  That is reminiscent of 1980 & 2011.
I still believe we have good probability of a few 100 or greater days in the area with 2011-style flash drought this Summer.
Like in 2011, timing is everything.  We were able to get the roots deep & get a good part of the crop pollinated by the time the worst of the heat & droughtiness arrived.
Warmth in late May & June will push the crops along very well & quickly with a very rapid growth & early tassel of corn in comparison to the planting date (fast GDD accumulation).  Soybean growth, flowering & podding should also be rapid with a very rapid accumulation of warmth.
If you are a melon grower this is good to get drier weather & heat with the cantaloupe & watermelon ripening, which sharpens the sugars in the flesh & prevents foliar disease.
This is an issue for pumpkin growers in Summer as flash drought may occur in tandem with heat surges.  Key is to keep the subsoil moisture & hopefully time out some "Ring of Fire" MCSs & tropical systems.
Lil' cool spell amidst the heat surges after planting or at pollination would be great, as well.
Unless we see big tropical systems get in here, September-October look drier & warmer than normal.  We will monitor the MJO (remember what happened last October?…………………….IT WAS VERY WARM with green trees in late October & no Fall color peak until nearly mid-November………….but MJO made a likely dry month turn very wet!).  MJO is tied to what is happening in the Indian Ocean & the western Equatorial Pacific.
However, warmer, drier Fall would imply a better harvest season than last year when it was the wettest October on record for nearly THE ENTIRE viewing area.
La Nina & La Nina impacts linger with AMO/PDO drought mode through Summer to Fall.
Analog (digging back to 1900) shows higher potential of El Nino emergence at some point next Winter.