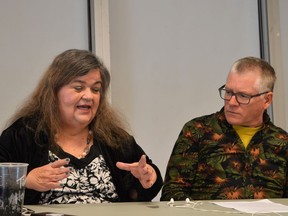 Article content
Even though the area received a dusting of wet snow on Wednesday, many people were looking forward to late spring/early summer gardening endeavors, including those who sat in on a discussion hosted by Transition Cornwall+.
Article content
A handful of green-thumbed locals attended the presentation in-person, while others attended from a virtual, recorded livestream.
A member of Transition Cornwall+, Carol Boileau, shared her accessible gardening techniques as a person who uses a wheelchair for mobility. Fellow member, Marc Ladoucer, asked her discussion questions and moderated the event.
"What I do, I am able to do from my wheelchair," said Boileau. "Everything — the potting, starting seeds, moving the pots, watering the pots, I do it myself. I even created a fence, I did it myself… anything is possible. If you have mobility issues, or just want to do something very easy, anybody can do vegetable gardening."
Boileau said she took up potted gardening during the pandemic, a pastime many people found themselves trying for the first time, whether it be for entertainment or food sustainability purposes. She said she laughed about her failures along the way, and described her successes, noting she is still learning.
To start, Boileau planted about 30 seedlings in containers in her house after mid-May. She learned that each plant should have its own container — which can be anything from a recycled Tim Horton's cup, to something from Dollarama — as long as it has enough room to accommodate the root growth for the particular plant. Some of the seeds Boileau purchased pre-bagged, others she extracted from veggies and fruits purchased from the grocery store.
Article content
An incredible giveaway returns to Cornwall May 29

Cornwall's tiny forest set to be officially unveiled Oct. 1

Seaway Valley Community Health Centre seeks garden volunteers
Once she took her plants outside, Boileau placed some on chairs for easier access and the ability for air to reach underneath the plant, where the containers have drainage holes. Others she placed within tiered wooden palettes and on a table. Throughout the summer, she would use a watering can to water her plants in the later evenings, making trips too and from the hose, which could not reach her veggie area.
"Everything has to be reachable because I water it myself," she said, considering the weight of the watering can and the height in which the plants are placed at.
Boileau saw the greatest success with different types of tomatoes, sweet and hot peppers, beans, kale, lettuce, green onions, and different herbs. She doesn't think she will try to harvest pumpkins or zucchinis again, as they grow so large, she believes they are better to be planted in the ground. She also doesn't think she will try to harvest corn again, discouraged that despite her best efforts with pest control, a squirrel confiscated every cob. The squirrels also made off with her cantaloupes, too.
Bugs are something Boileau said she is thankful to have not encountered yet. To discourage pests in general, she placed a mesh or small wiring around some of the plants. She also used miracle grow once every few weeks, and has plans to reuse last year's soil, mixing it with compost or manure first.
"It's a learning experience every year. If you're just trying, don't be discouraged! You will improve with your abilities every year," said Boileau.
To find out more about Transition Cornwall+ and its unique calendar of upcoming events, including the Incredible Edibles Composting Workshop, visit the Transition Cornwall + website.
shoneill@postmedia.com