With hopes of revolutionizing agriculture, the plant factory sector has recently thrived. An increasing number of its vegetable products have entered the consumer market. However, several problems facing plant factories, such as high costs, poor crop quality and a low level of smartification, have remained unsolved.
The initial construction of plant factories is too costly to be overlooked. To illustrate, the cost of a 5,000–10,000 m2 commercialized plant factory, including interior design and equipment and facility installation, ranges between 8,000 and 10,000 yuan ($1,577) per m2. Moreover, the equipment is energy-consuming. LED lights, despite the constantly improved efficacy, consume a lot of electricity as they must be turned on for a long time. Consequently, high electricity bill is a major cost for these factories.
The texture and nutrients of vegetables grown in plant factories cannot match those of average products. Factory-grown lettuce, for example, contains excessively high water content and low nutritional value. Additionally, very few cash crops with high value (only cannabis and some Chinese herbs, namely Anoectochilus roxburghii and ginseng, are available) can be cultivated in plant factories.
The current smart technology of plant factories cannot fully realize unmanned operations. Instead, a certain number of personnel must be staffed. Market research on plant factories in Japan has concluded that labor force accounts for approximately 30% of total operational cost, making it the top operating expense for plant factories.
Therefore, it will take some time before plant factories become a regular base for agricultural production. Indeed, the technologies behind them are quickly advancing. According to TrendForce's 2021 Global Lighting LED and LED Lighting Market Outlook-2H21, problems of global food security and land resource constraints as well as the rising demand for smart agriculture have caused a frenzy of plant factory and vertical farm establishment worldwide. These factories and farms can help shorten food supply chains and ease food shortages.
Thanks to the rising demand for cannabis cultivation and establishment of plant factories, the horticultural LED lighting sector has grown year by year. In 2020, its global market size was worth $1.3 billion, 49% up from the year before, and it is expected to hit $4.7 billion in 2025 with a 2020-2025 CAGR of 30%.
To explore the development status and trends of plant factories worldwide, LEDinside has summarized information on the top 9 plant factories in 2021, which can serve as a reference for related businesses.
The United States
AeroFarms
Founded in 2004 and headquartered in New Jersey, AeroFarms has grown over 550 varieties of fruits and vegetables (e.g., leafy green vegetables and tomatoes) using aeroponics and LED lights as a natural light substitute. The US company, which already owns plant factories in Singapore and the United Arab Emirates, continues to expand its business globally.
On April 29 2021, AeroFarms broke ground on its world's largest, most advanced aeroponic indoor vertical farm in Virginia, the US. The farm, occupying an area of 136,000 square feet (12,634.81 m2), integrates hardware, automation, intelligent controls and sensors, machine learning, machine vision, supervisory control and data acquisition, enabling crop inspection and management.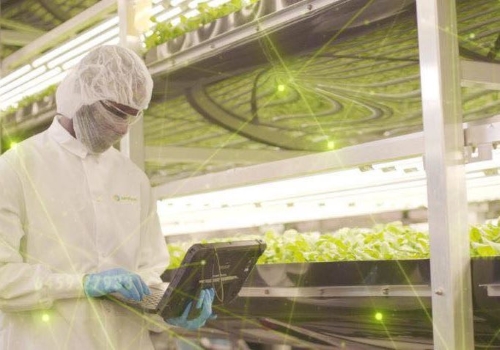 Credit: AeroFarms
On June 25, AeroFarms started to build a vertical farming facility—AgX Research Center—in Abu Dhabi, the UAE. Aiming to develop new-gen agriculture under dry and desert climates, this 54,000 square feet (5,016.764 m²) center is scheduled to be inaugurated and put into operation in 1Q22.
On August 5, AeroFarms partnered with Nokia to develop a cutting-edge AI-based plant vision technology. Nokia's AI-based drone control sensor and expertise in advanced machine learning, computer vision, data analytics will be combined with AeroFarms' machine vision tools to strengthen and improve vertical farming performance, allowing the plant factory company to collect more data.
On August 12, AeroFarms announced a plan to build its largest-to-date farm in the greater St. Louis area. The farm, occupying an area up to 150,000 square feet (13,935.46 m2), will provide vegetables for the Midwest region of the US.
In the future, AeroFarms intends to enter the Chinese market.
AppHarvest
Founded in 2017, the US-based AppHarvest, using LED fill lights, specializes in growing tomatoes. In 2021, while striving to build 12 high-tech farms by 2025, AppHarvest managed to expand fruit and leafy green varieties available in its farms.
On March 2, AppHarvest purchased the controlled environment agriculture facility and property in Kentucky from Equilibrium, a sustainable investment company, for $125 million.
On April 8, AppHarvest acquired Root AI, an agricultural robotics and AI company, to increase farming efficiency. Root AI's harvesting robot, Virgo, will provide harvest support for indoor farming. Meanwhile, the machine will collect relevant data to assess crop health and accurately predict future yield.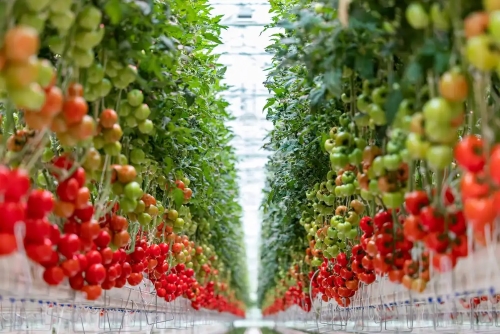 Credit: AppHarvest
On June 16, the ag-tech company received a $75 million loan for the expansion of its high-tech farming network, enabling it to get closer to the goal of building 12 high-tech farms by 2025. Additionally, the company planned to start growing vegetables and strawberries in 2022.
On July 26, AppHarvest cooperated with Amazon veteran Mark Keller to design an AI-engineered farm operating system. The company has confirmed that it is investing in robotics, AI, tele-operation and proprietary seed genetics to facilitate accurate forecasts of crop yield and quality. The said technologies can also be used to manage and train the Virgo robot for increased and diversified harvests.
Bowery Farming
Founded in 2015, the New York-based business mainly cultivates leafy green vegetables and currently has three farms.
On May 25, Bowery Farming raised $300 million for farm establishment and technological improvement, including the development of operations automation software, sensors, and robots, as well as for product portfolio expansion. As the company indicates, hardware and robotics are two technologies helping it make profits.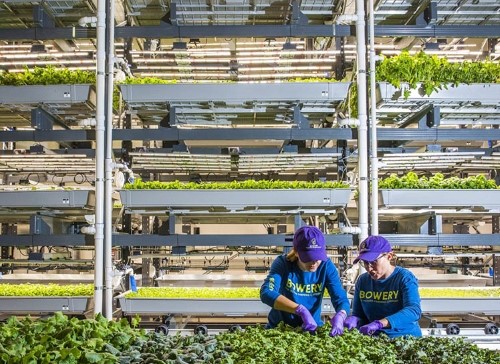 Credit: Bowery Farming
Brightfarms
Brightfarms was founded in 2011 in New York and focuses on growing salad vegetables using hydroponics. As of 2021, the company had five greenhouses in the US.
On June 24, Brightfarms spent millions of dollars on building a research center, BrightLabs, in Ohio. The R&D center helps strengthen Brightfarms' research capacity by 10 times, improve profitability and achieve product innovation.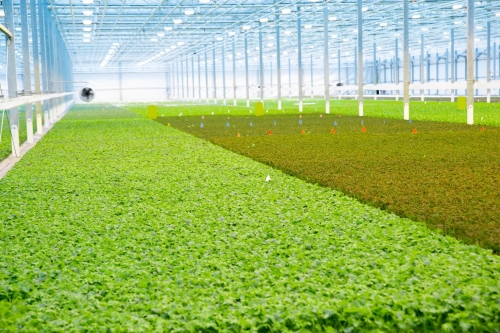 Credit: Brightfarms
Kalera
Founded in 2010 and headquartered in Florida, Kalera adopts hydroponics to grow leafy greens and has developed advanced automation and data collection systems featuring IoT, cloud computing, big data analytics and AI for crop management.
On February 25, 2021, Kalera bought Vindara, a seed developer dedicated to indoor vertical farming and controlled environment agriculture. Kalera stated that the acquisition will help it increase yield and shorten crop production cycle. The deal also allowed Kalera to develop new varieties.
On August 11, Kalera proceeded to spend €130 million on acquiring &ever GmbH, a German baby leaf indoor vertical farming company. The deal enabled the US corporation to further develop its international business and product lineups, as well as improve its productivity through the German company's automated agriculture system.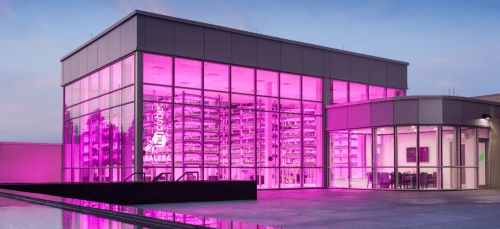 Credit: Kalera
Europe
Infarm
Founded in 2013, the Berlin-headquartered company concentrates on growing salad vegetables, vanilla and mushrooms with a total of 65 crop varieties available.
On February 23, 2021, Infarm launched the latest farming and distribution center featuring high capacity, automation and modularization. The facility can generate a harvest that is equivalent to that of a 10,000 m2 farmland, boasting an efficiency that is 400 times higher than the conventional soil-based agriculture. Equipped with cloud-operated automation farming systems, the center allows various environmental parameters to be set, monitored and analyzed online, including the CO2 level, temperature, light, pH value and growth cycles.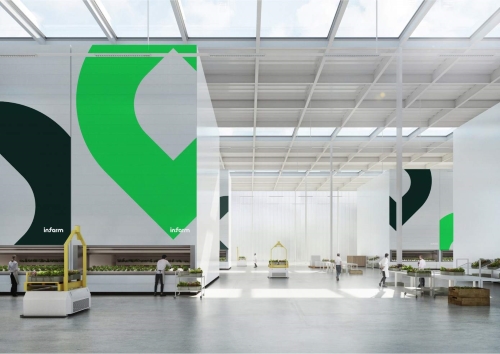 Credit: Infarm
On August 4, Infarm announced a plan to establish a cloud-connected vertical farm in the UK. The 9,760 m2 farm can generate up to 18 million crops, an equivalent to the output of a 360,000 m2 farmland field. The vertical farm is scheduled to start harvesting in 4Q22.
On August 19, Infarm build a 6,508 m2 vertical farm in Copenhagen, Denmark. The farm can annually produce more than 11 million crops, which will be harvested starting in late 2022.
In December 17, the German ag-tech company raised $200 million in Series D funding; the capital will enable the establishment of more vertical farms and the company to expand to the US, Canada, Japan and other European countries for more diversified portfolios. Infarm's next step is to enter the Asia Pacific and Middle East markets.
LettUs Grow
LettUs Grow, a hydroponic farming system provider, was founded in the UK in 2015. The business specifically provides farming containers, where aeroponics is combined with LED lights and its self-developed management software Ostara for plant cultivation. Each container is available for 30 different crops including leafy greens, microgreens and baby leaf salads.
On April 29, LettUs Grow established a partnership with Harper Adams University that specializes in agricultural and food research. The two will focus on studying the effects of greenhouse and vertical farming aeroponics and hydroponics on plant growth.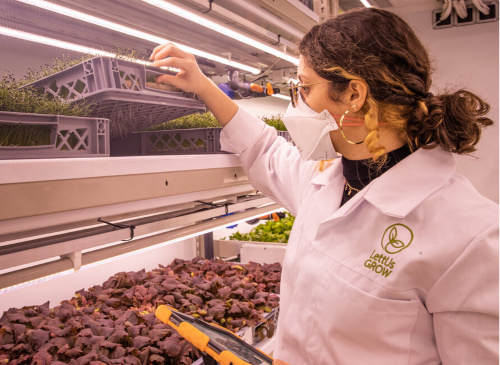 Credit: LettUs Grow
On October 14, the Bristol-based company partnered with La Serra, a commercial greenhouse crop grower, to explore indoor propagation of tomatoes with an aim to improve their quality, consistency and sustainability.
PlantLab
Established in 2010, the Dutch ag-tech business specializes in research and development of commercial vertical farming. Currently, it has a 4,000 m2 plant factory in Germany that grows tomatoes, cucumbers, chilies and lettuces.
On August 25, PlantLab planned to expand its factory by four times with an additional farming area of 15,000 m2, where vegetables and vanilla will be planted. Moreover, the company intends to enlarge its factories in the Bahamas, Curaçao and the US.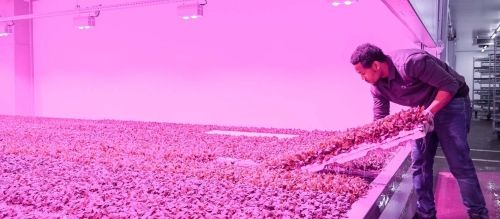 Credit: PlantLab
China
SANANBIO
In 2015, SANANBIO was co-established in Anxi County of Fujian Province, China, by Fujian San'an Group and the Institute of Botany of the Chinese Academy of Sciences. SANANBIO is an advanced photobiology company dedicated to related research, development, production, demonstration and incubation, which focuses on cultivation of quality vegetables and medicinal plants, extraction of medicinal intermediates and support of plant factory equipment and technologies.
SANANBIO's plant factory boasts an area totaling nearly 40,000 m2, where various crops such as vegetables, edible flowers, A. roxburghii, fruit trees and tea trees are planted. Specifically, produces like vegetables, flowers and A. roxburghii have been sold for profits. The factory features 300+ types of horticultural lighting fixtures that are mainly used for cannabis cultivation as well as indoor and green house fill lights.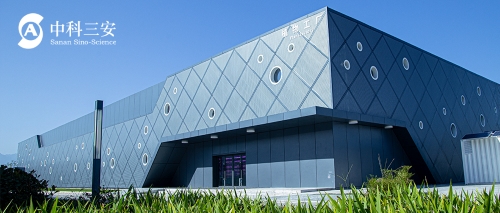 Credit: SANANBIO
Concerning overall solutions, SANANBIO's one-stop plant factories have been adopted in various projects countrywide.
In March, the company's artificial light-type plant factory at the Jiuquan Satellite Launch Center was inaugurated, aiming to grow lettuces, tomatoes, cucumbers and other vegetables.
In September, SANANBIO established an unmanned vertical farm in Yangling District of Xianyang, China. The 2,400 m2 factory features the ag-tech business' unmanned vertical farming system, the UPLIFT, for farming operations. The system can facilitate safer, more efficient unmanned sowing, separate planting and management.
Conclusion
It will take some time before plant factories become common, but major ag-tech businesses have been determined to expand their business worldwide through acquisition, factory expansion and smartification.
While expanding their business through strategic M&A, the said ag-tech companies have strived for improved productivity and diversified plant varieties.
More large-scale plant factories have been seen in different regions. These enterprises, while expanding their cultivation capacity, have become closer to average consumers.
They have also invested countless resources to realize smart farming and adopt cutting-edge technologies and smart facilities for crop cultivation. Farming processes in plant factories can then be continually advanced, whether it is in the area of automation, digitization and controlled environment agriculture, ultimately enhancing the safety and efficiency of farming management.
In brief, leading businesses in the ag-tech sector have expanded farming capacity, crop diversity, and smartification levels through M&A, factory expansion and the use of cutting-edge technologies. With increased returns on investment, these companies can further establish plant factories in various places. The said acts have also served as a reference for small- and medium-size businesses, which is conducive to the large-scale development of plant factories.
As agricultural companies continue to explore new business models, the establishment of more effective, low-cost plant factories is likely in the coming years. LED lighting, as the fundamental equipment of such indoor facilities, will better fit other smart instruments as their efficacy has been constantly enhanced with lower costs. Expected to become a favorite among traditional and startup growers, LED horticultural lighting will witness boosted demand for the years to come. (By Irving from LEDinside)