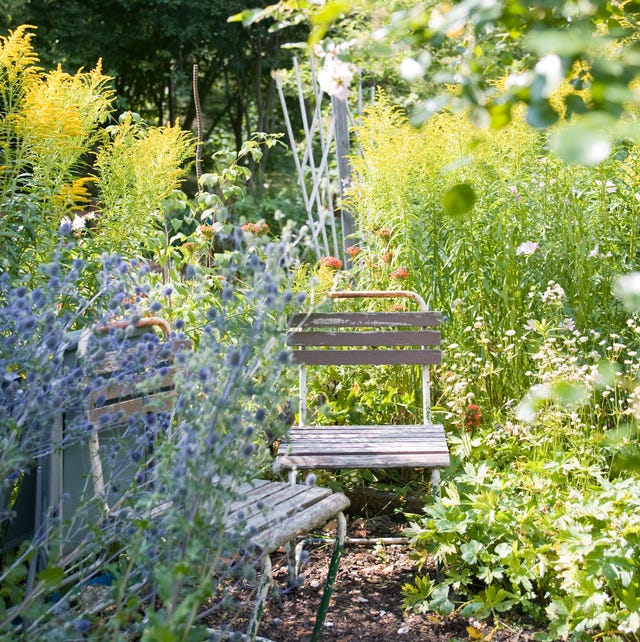 ZenShui/Sigrid OlssonGetty Images
If you're looking to get the most out of your green space with the least amount of effort, then low-maintenance gardening is just for you. From sowing wildflower seeds to mulching, there are lots of ways even the most time-strapped gardeners can reap the benefits of a beautiful outdoor space.
"Our outdoor space is an area that we can enjoy with our loved ones, and escape the busyness of our everyday lives. However, finding the time to make it spring/summer ready isn't an easy task for everyone," Johanna Constantinou, brand and communications director at Tapi, says.
"Whether people are short on time, money, or knowledge, we hope our easy maintenance hacks will simplify their time when they're looking to plan, plant, and primp their space so they can enjoy it to the fullest."
On that note, keep reading for everything you need to know…
1. Opt for a no-mow lawn
Grass is high maintenance, often getting lots of traffic from pets and children. If you're looking for a fuss-free alternative, why not adopt a natural approach and go for a no-mow lawn instead? We can all create a haven for wildlife by planting bee-friendly wildflowers, such as meadow saxifrage, knotted clover and eyebright.
According to previous research by Plantlife, simple changes in mowing can result in enough nectar for ten times more bees and other pollinators. With the warmer weather here, now is the perfect time to broadcast wildflower seeds to naturalise in borders and hedgerows.
"Don't mow all of your lawn. Find a corner of your garden where you can allow it to become, dare I say it, a little bit unkempt," implored Chris Packham during an interview with Country Living about spring gardening. "That long grass will provide food for butterflies and other invertebrates and shelter for other animals – maybe even something as exciting as a hedgehog."
2. Opt for evergreens
Evergreen shrubs are perfect for a gorgeous garden all year round. One of the most important and popular additions to any space, the shrubs to consider include bamboos, griselinia, Choisya (Mexican orange blossom), lavender, rosemary, and bay (Laurus nobilis).
"There are different types to choose from, plus they also work well as a natural screen for extra privacy," Johanna says. "They will also make your garden look great, without the need for constant watering."
3. Plant smarter
When planning your planting scheme, choose smaller plants and pots that don't need as much attention. Other low-maintenance plants for time-poor gardeners include hardy geraniums, wildflowers, strawberries, bergenias and holly.
"Patio pots, hanging baskets, and window boxes are a great way to add colour and if you scatter them, they'll add interest to your space. Container planting is another great shout for compact spaces. You can mix and match pots and choose evergreen plants in varying heights to plant."
4. Go easy with the homegrown produce
Johanna explains: "If you're hoping to grow your own fresh produce this year, some veggies don't require constant care. Courgettes, squashes, and radishes grow by themselves, all you need to do is water them every so often. Peas, beans, and Swiss chard also require minimal maintenance."
5. Try mulching
Mulching, which works by adding a thick layer of organic matter on the surface, helps to retain soil moisture, suppress weeds, add nutrients and insulate plant roots. Extremely beneficial for a garden, the materials to promote a healthier soil ecosystem include woodchips, grass clippings, or organic compost. Not only will these help plants to grow stronger, but it will also require less input from you.
6. Think about your hedges
Finally, consider planting slow-growing hedges to reduce the time you spend up a ladder trimming. Johanna adds: "Yew, box, euonymus, and cherry laurel are good choices that can be trimmed, in some cases, just once per year."
This content is created and maintained by a third party, and imported onto this page to help users provide their email addresses. You may be able to find more information about this and similar content at piano.io